Trends are tricky. Especially, when it comes to website design. Every website owner tries to refresh a website design in accordance with the freshest web design trends in order to keep the up-to-date website look and equip it with innovative features. However, not every website trend is versatile and suits any project. When you have a nice website you should strive to remain harmony between your niche specificities and web design trends.
In this article, we share with you the most trending WordPress themes of the future since it is 2020 outside which sounds quite futuristic. Now is the best time for you to improve the website look and its functionality to hit the market with your products/services after the winter holiday.
Drone Media | Aerial Photography & Videography WordPress Theme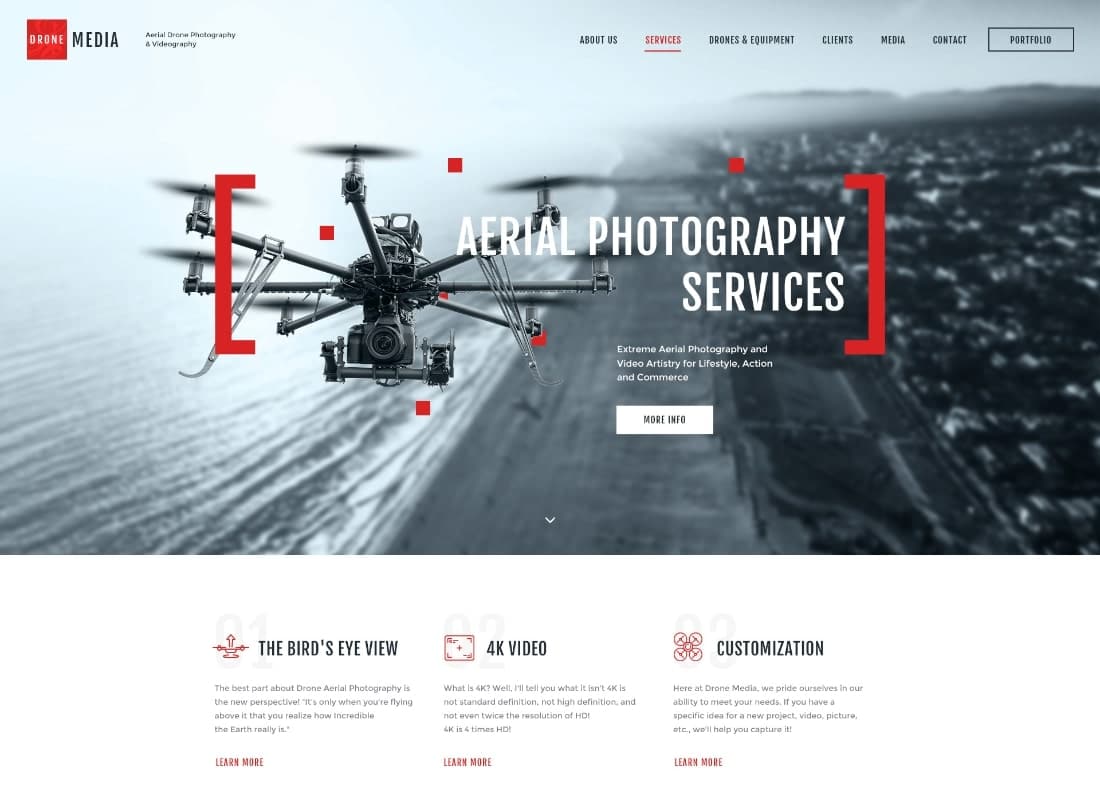 This is one of the most trending WordPress themes of the future as it is designed for aerial photography and videography services specifically. Of course, you can adjust its premade design to make it fit a casual photographer portfolio simply using a drag and drop builder and shortcodes that allow professionally modifying the design even if you are a total zero in WordPress design.  
Drone Media theme is an option for you if you need a crisp and modern design for your website today as you can get it without much difficulty using the fast and automated demo import option. 
It comes packed with a variety of professional layouts for photography and videography services representation, includes premade contact forms, the online booking functionality, WooCommerce plugin compatibility, and more. 
Smart Casa | Home Automation & Technologies WordPress Theme
Home automation services become extremely popular these days so we couldn't pass the Smart Casa theme when compiling this collection of the most trending WordPress themes of the future.
This theme will help you to launch the most professionally looking tech-savvy website. Its design suits perfectly home automation services. The WooCommerce support makes it possible to not only promote services online but also monetize your activity. 
You can change any aspect of this theme as you get access to the handiest theme options panel. Smart Casa theme has manageable color settings and a wide range of fonts available for the most precise personalization of the ready-made design. To boot, this theme has a fully responsive and Retina-ready design.
DroneX | Aerial Photography & Videography WordPress Theme
This is one of the newest trending WordPress themes of the future that you can get for an aerial photography and videography website. It has the smartest functionality provided by the compatibility with such plugins as Essential Grid, Slider Revolution, ThemeREX Addons, and more. 
The layout of this theme is made using the Elementor page builder, which means that you can change its look without touching a code but dragging premade Elements around the page. 
Another advantage of the DroneX theme is the abundance of premade designs. There are over 12 blog demo styles, 3 stylish homepages, a bunch of inner pages stuffed with relevant SEO-friendly content, ready-made header and footer styles, etc. 
Revirta | Personal Virtual Assistant & Secretary WordPress Theme
When it comes to an online personal assistance representation Revirta theme is one of the best options to go for. It has a trendy yet elegant design that allows you to showcase services beautifully stressing its highlights to all the potential customers. This theme offers 6 eye-catching homepage designs that you can use for a variety of business websites.  
The Revirta theme is made with clean and valid HTML5 and CSS3 code which structure is fully optimized for SEO. Moreover, it has a 100% responsive design and comes with 2 mobile-ready sliders included. 
You shouldn't be too bothered about the theme customization as you get the detailed documentation included that will help you avoid mistakes while working with the theme. 
Ozisti | A Multi-Concept WooCommerce WordPress Theme Augmented Reality Store Ready
Among all the most trending WordPress themes of the future, Ozisti is one of the modest options for an e-store. This theme comes integrated with augmented reality technology so you could showcase products and let your customers enjoy the 3D product representation. 
You get it with complete integration of WooCommerce as well that allows you to receive payments for products and services you provide. Moreover, there are lots of other WooCommerce features that make this an exceptional WordPress theme for any online shop, namely: the currency switcher, whish list, compare list, categories management, interactive search and more.  
The best part is that you can use it for any field literally. Ozisti is a multi-concept WordPress theme with a flexible layout. There is a handy drag and drop page builder included that will help you to adjust its look to your liking. 
Albertino - Science Laboratory Research & Technology WordPress Theme
If you don't want to invest a lot of effort and money when launching a website for a science laboratory research then buy the Albertino theme. This is a premium technology theme that will help you to start a successful online promotion of your services online. 
This theme is made using niche representatives' needs. It has a clean and modern design that is the most appropriate for a laboratory online representation. Albertino theme includes pages that work great for products showcasing and consulting services promotion. You can make it look more relevant for your project simply playing with color settings and picking different post types. 
Albertino theme is an easy to manage WordPress theme that includes donations functionality, premade modules, lots of shortcodes, unique look for all pages, and fully responsive design. 
HotLock | Locksmith & Security Systems WordPress Theme
HotLock is a contemporary and functional WordPress theme for locksmith services companies. This one includes a variety of homepage options all fully responsive and with a Swipe effect for all scrolled sections included. 
In case you don't believe in the absolute responsiveness of the HotLock theme design you can check its demo version on mobile devices. The Retina image support improves the design adaptiveness as well. 
The HotLock theme comes packed with Swiper and Revolution sliders, support Parallax effect backgrounds, customizable fonts, and color. 
Ludos Paradise | Video Gaming Blog & Clan Esports WordPress Theme
If you are about to launch a video gaming blog then you should know the Ludos Paradise is among the most trending WordPress themes of the future designed for the niche specifically. It is perfect for any kind of gaming website and clan esports website. It is easy to manage with a variety of customization tools supported. 
This theme not only includes lots of inner pages for a website but also a bunch of shortcodes and widgets that will help you to make the website look unique. The trendy responsive design is of this theme allows you to share content in style. 
Ludos Paradise is the theme with outstanding gaming functionality and includes such features as live game streams, clans members management, gaming forums, gaming events management, and much more. 
WotaHub | Coworking Space WordPress Theme
Do you want to promote your coworking space on the WEB? Then you need to make sure your website stands out. With one of the most trending WordPress themes of the future, you will achieve that easily.
WotaHub is a stylish and modern business theme with a fully responsive design that features the one-click installation option for your best convenience. Moreover, you get a huge pack of theme documentation that is very well structured and organized. 
This theme guarantees a spectacular products/services showcase and a premium events management functionality which is a must-have for any coworking space website. 
Vixus | Startup & Mobile App WordPress Landing Page Theme
If you want to launch a website for a startup you should buy this theme as it offers lots of gorgeous business options. 
This theme comes with 3 creative layouts available. All the skins are super easy to customize with the Elementor Page Builder. This content composer works on a code-free basis and includes a variety of premade content Elements to make the customization process even easier for you. Vixus theme includes over 9 blog demo styles so you have a variety of options for stylish responsive content representation.
A.Williams | A Personal Assistant & Administrative Services WordPress Theme
It is not every theme that you can use for administrative services representation but A.Williams is one of the best trending WordPress themes of the future for that purpose. This theme has a bright eye-catching design and lots of exceptional functions for business management. 
It is made using the quality code that boosts the website SEO and its speed. It also affects the loading speed. The theme is made to impress visitors with design and functionality. A.Williams theme includes the smart events management system. Detailed documentation and support lead you through this theme smoothly. 
Weedles | Virtual Reality Landing Page & Store WordPress Theme
Need an impressive WordPress theme? The Weedles will boost your impact on the audience online. Just like all the most trending WordPress themes of the future, the Weedles has a fully responsive layout so you could share any content on all devices without being worried about its adaptiveness. 
With this theme, you can express your vision of perfect website design. For that purpose, you get a drag and drop page builder, lots of shortcodes, manageable colors, tons of fonts, and the theme options panel full of instruments for the fast and simple content management. 
The compatibility with ThemeREX Addons plugin allows you to customize header, footer, sidebars. You can use every section of this theme to your business advantage. 
Crework | Coworking and Creative Space WordPress Theme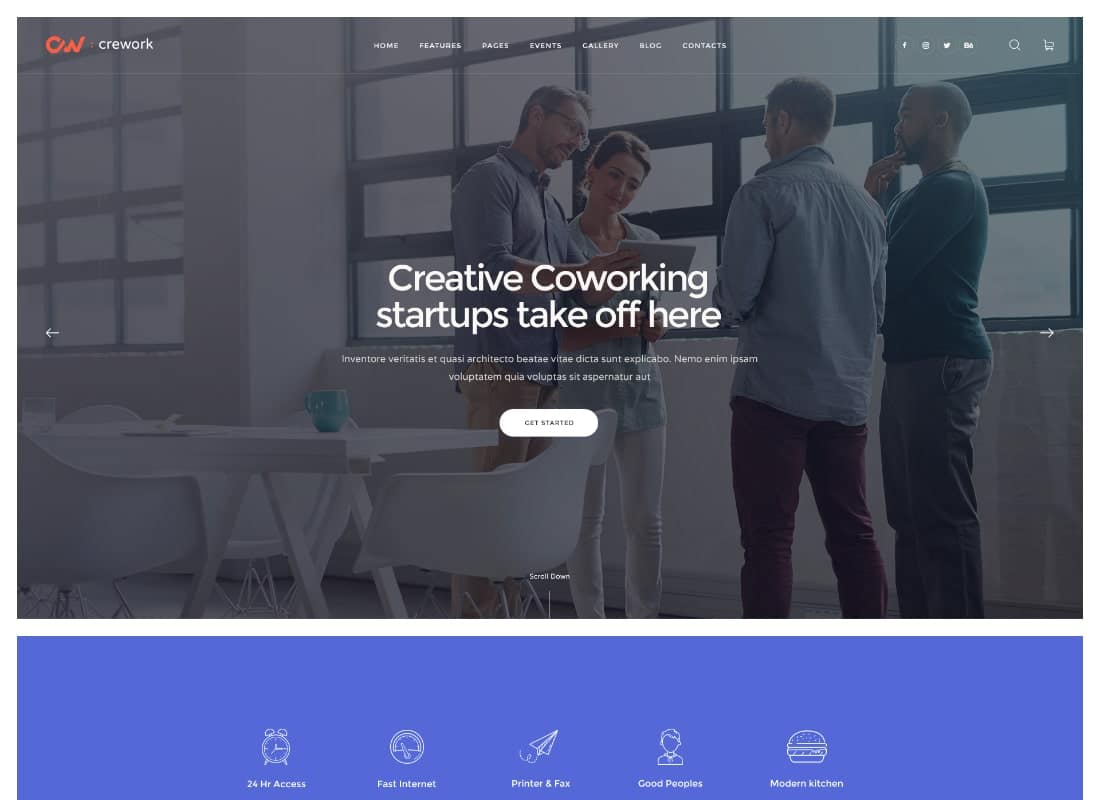 Any creative space requires a creative representation online. Crework theme is designed specifically for coworking spaces. You get it integrated with the clever events management system and calendar. 
There are 3 homepage layouts all customizable and fully responsive. You can change anything about the default look of this theme using a drag and drop page builder. There are lots of shortcodes and pages that are made for coworking spaces and any other office/community. 
The functional design and high-quality code make this theme a powerful solution for different business projects. 
CloudMe | Cloud Storage & File-Sharing Services WordPress Theme
It is difficult to imagine a company that doesn't use any cloud storage for work. If you want to occupy this niche with a brand new cloud storage service you should buy a decent WordPress theme and launch a functional website. CloudMe is the theme you can get within 1 click of your mouse thanks to the fastest theme demo import mechanism. 
CloudMe theme has an absolutely responsive design so your clients could enjoy quality service on the go. This theme offers the following premade pages: about, benefits, resources, pricing, team, services. Moreover, there are 4 premade homepages that you can use for cloud storage, file-sharing services, or hosting provider website. 
This theme comes with support for Sticky Menus and Mega Menu. These tools allow you to organize the content and represent to the customer in the most brilliant comprehensive form. The Ajax Search mechanism is also included that affects the usability of this theme and helps your visitors to find the needed piece of information without much difficulty. 
Coworking - Open Office & Creative Space WordPress Theme
Coworking is a good old favorite among all the trending WordPress themes of the future on Envato. You can find lots of positive reviews on it. The reason for that is its impressive functional capacity. 
The theme comes packed with ready-made amenities blocks, pricing, forum, team module, products showcase, video tour module, WooCommerce store functionality, and more. You get tons of shortcodes that you can use with a drag and drop page builder for the best efficiency. 
Coworking theme has the most manageable color scheme so you can make the website more eye-catching and appropriate for your project in general.