A wedding is often regarded as one of the most important and joyous events in the lifetime of every person. If you have something to do with an organization of such kind of the celebration, you should definitely pay your attention to various eye-catching wedding website templates. They will make it possible to increase your market presence and get not hundreds but even thousands of new clients.
Actually, you can find a plethora of marvelous website templates on the web but we tried to include the most impressive, tender, and powerful ones. With their help, each person (both a professional web-developer and novice in coding) can launch a website that will showcase various wedding services at their best.
You can be sure that it will be possible to create a totally unique website to your individual style and needs. Together with these exciting templates, you will get a bunch of advanced customization options that will allow you to create a fashionable look of your future online-project. In such a way, it will take you nothing to build a strong online-presence and make people pay more and more attention to your website.
If you want your website to showcase not only your services but also all possible creative ideas, one of these powerful solutions can be definitely called your amazing assistant in capturing the attention. Just select your ideal website template and get started building an attractive website that will impress your current customers and make your wedding business prosper.
Best Day
The best day is a responsive wedding template, and it is one page that is clean, elegant, flat and modern. It is the best for engagement and wedding invitation. It is customized to work on different devices like the mobile devices and desktops. The code is not complex which makes it very easy for beginners. The theme is beautifully laid to make it eye-catching for your audience hence conveying your message clearly.
Apart from the code being easy, it is very clean and perfectly organized. The documentation is very good and therefore easy to understand. It also has a ready retina. For that project that you have been working on, this site will be the perfect match as it is not time demanding, everything is just ready for you to access. Making changes will be as easy as the work has already been made simple for you. It will be a great way of ensuring that your online presence has a special attractiveness.
Aerial
Aerial is an elegant and attractive template designed for those people who are interested in launching a nice-looking wedding website. It comes together with various features that will showcase all possible aspects of such an important and memorable day of your life. In order to make your online-project look appealing and make people adore it, you definitely need to pay your attention to different variations of the homepage.
Thanks to them, it will be possible for you to tweak the look of your website and impress everyone with its stylishness. With the help of stunning functional tricks, you will get the opportunity to introduce a story of your wedding agency, its professional team, all provided services, and your pricing plans.
You can easily play around with amazing Instagram images and galleries in order to show off your incredible images. In addition to this, a wonderful Ajax contact form will allow your visitors to find out more about your services and their benefits. Don't forget to make use of the marvelous social media integration to promote your wedding agency and get lots of new readers.
Brides
Brides is a marvelous solution that is considered to be a perfect variant to launch a widely-recognized wedding magazine. In order to make this day unforgettable for thousands of people, you should definitely take advantage of this eye-catching solution. It comes alongside four excellent blog layouts that will allow you to make your articles look extremely attractive and remarkable.
You will also get multiple gallery types that will make it possible to showcase the most wonderful pictures regarding your projects and events. Every person, who decide to select your wedding services, can easily find all necessary information regarding them.
Thanks to a powerful search engine, they will get the opportunity to read all essential information about your company. Furthermore, you can make use of user-friendly web forms that will definitely turn your website into a reliable one. By the way, you can always make your online-project look even more engaging using a bunch of animation effects and transitions.
Lovus
Lovus wedding is a very elegant yet smooth, pixel perfect and responsive wedding template. It has smooth animations and transitions, and it has a structured and valid source code for better search engine optimization, it comes with a stylish and straightforward map, the design is very stunning and superb, the code can be easily customized. Lovus is created with Bootstrap, and it is one of the most effective templates for weddings. It can easily help you to build that website that you have desired in no time. To make your website stand out, it has the features below. A three homepage wedding, an included one-page template, smooth page transitions, it has the option to enable and disable page transition, its RSVP is working and comes directly to your  message inbox amongst many other features. Generally, it is a superb template.
Arlin
Arlin is a responsivewedding template. Our key objective is to create a design that is elegant, clean and stylish and a wedding template that is easy to use. The tools used to build this template are highly modernized to achieve the best when building this template. Inclusive is an email sender and a countdown timer and to give you the best quality SVG images are used. The three main types that are available are video background, box layout, and the default one page. On the left and right-sidebar, you are able to find five blog pages. A single post of full width, a full-width blog and another single post with a sidebar. You will also be advantaged to get 11 demo pages, a love story timeline, portfolio and a gift section. The fact that your site will be highly detailed means that everyone who visits it will want to know more about it. A beautifully laid site never misses fulfilling the purpose for which it was created.
Flower Boutique
A vibrant template created for those people who sell amazing and blooming wedding bouquets. Showcase your professional decorations and wonderful wedding gifts using this out-of-the-ordinary solution that includes a wide range of fully-fledged features. To start with, you will get lots of ready-made pages that will make it possible to inspire people with brightness and tenderness of your design.
Each person, who will visit your website and become interested in your wedding services, will get a wonderful chance to get all your updates thanks to a great newsletter subscription form. They will also get a chance to communicate with your skillful team with the help of the powerful contact form. If you want to get even more customers, you should certainly pay your attention to a stunning blog functionality. With the help of it, it will be possible to share various details about company and get the attention of your target audience.
Wedding Invitation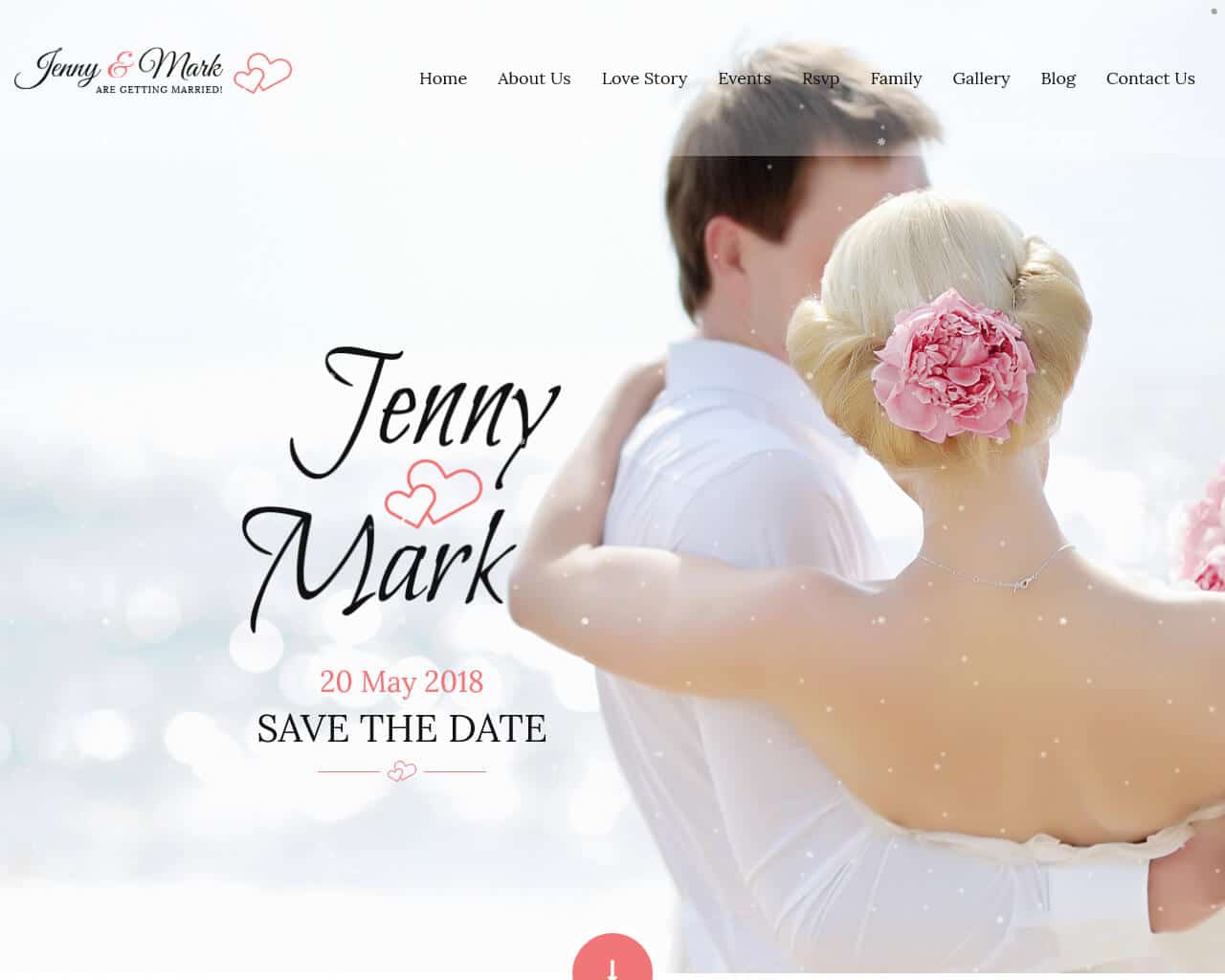 Wedding Invitation is a tender and good-looking template that will assure your core audience of choosing exactly your wedding agency. In order to make everyone believe that you can provide them with the best celebration ever, you just cannot pass by this marvelous solution. It comes together with a great collection of pre-made pages that will do everything in its power to show off all details about your events in the best possible light.
You will also get five predefined colors that will allow you to express your individuality by means of colors. It will be possible to make your texts become more readable thanks to different Google Fonts. Moreover, it will take you nothing to bring the most important information about your upcoming celebrations into a spotlight using a marvelous Revolution Slider. By the way, your high-quality images won't be left unnoticed if you take advantage of the eye-catching photo gallery.
The VOW
Opportunities do not just happen, because they are created. An essential solution that will help you set up a professional and realistic website that your audience cannot resist. Certainly, it's looks will help you reach your target audience and convey your message. With it, you are guaranteed compatibility that is multi-browser which will allow you to create a shop for almost all client's.
The vow eases the burden of creating your wedding website. Many people have no clue of the vows to give on their wedding day. Although it is important to give a personal touch to your vows, many seeking help from wedding websites and therefore, with a straightforward and perfectly laid out site you will attract a mass hence increasing your returns. With the vow, you will get a site that is mobile friendly which is a must for any modern website. To make people interested in what you are offering, the use of sliders will make your site eye-catching.
Wedding Planner
If you have the power to plan a wedding of everyone's dreams, you should spread the word about your capabilities. Thanks to this bright and unusual template, it will be possible to make people entrust their wedding cares to your wedding agency. By means of the stunning Parallax effect, you will get the opportunity to give your visitors a feeling of true immersion and illusion of depth.
Thanks to a powerful built-in contact form, your visitors will be always ready to get in touch with you, inquire more information about your services and leave a feedback on your wedding services. It will be also possible to display your blog on the main page of your website. In such a way, you will keep your audience engaged and provide them with a marvelous user-experience. Don't forget to show a physical location of your wedding agency with the help of the powerful Google Map.
Liebe
Liebe is one page fully responsive template, that is suitable for any website related to a wedding. However, the design is a little bit more complex than others, making it delicate. It features many amazing effects. The fact that it is built on Bootstrap framework makes it even better because it has powerful options that help in making the theme fully customizable. Although it is made of three ready color schemes, you can make one as per your preferences without strife. It is beautifully laid out to meet the standards of your audience enticing them to want to know more and be involved. Liebe has an open street map that actually has a marker, and it has Google fonts and fast support, an RSVP form that is already validated, it is also inclusive of flower illustrations. You can edit it easily regardless of whether you are a beginner. You can use the two header options that it has that is the picture wall or slideshow.
WedPlancia
WedPlancia is a tailor-made template designed for making your wedding agency become extremely popular on the web. In order to draw an audience to your brand new website, you don't need to make a lot of efforts. To begin with, you will get a fully-fledged website slider that is considered to be a great solution to present the most crucial information. With the help of this option, it will be possible to create eye-catching slides with a presentation of new projects, promos, and many other things that should be highlighted.
Furthermore, your visitors will be always able to communicate with your team if they have some questions regarding your services. Thanks to a wonderful contact form, it will be possible for them to ask for more information and give you some feedback on your company. You can be sure that your website will have a unique for the reason that this package comes together with a collection of stylish Google Fonts.
Weddlist
Weddlist template is suitable for your wedding vendor and wedding directory. The files that are included make it very easy to customize which is beneficial to you. It is fully responsive. It includes a revolution slider. It has very many features which make it a very interesting template. A few of the said features are, two home versions that are different, map listing and row, top map listing, budget calculator and a dashboard for the couple where you can find their love story and so on, its design is highly modernized to meet the standards of your viewers, has google maps and google fonts, its header is full screen and it has awesome font icons, documentation is included, and it has amazing gallery pages, weddlist design and code is very clean, the design is very creative as you would expect and unique, it also has vendor pages and a blog dashboard.
Perfect Bride
In order to boost a popularity of your bridal shop, you definitely need to take advantage of this lovely template. Its tender design will impress your imagination with a low-key palette of colors that have an accent of white and light-pink shades. Without a doubt, your visitors will be happy to take a glance at such an eye-catching and elegant design. By the way, all information will be presented in a three-column content positioning that will focus the attention on your content.
You will also get a fully-functional website slider that will allow you to show off the best offerings of your bridal shop. Thus, you can be sure that your visitors will know everything about your promos and hot offers. In addition to this, an amazing masonry gallery will allow you to arrange your images in a creative way. Don't forget about a stunning testimonials block that will make your website look more reliable and trustworthy.
FOREVER
Forever is an elegant and exquisite wedding template, great for wedding engagements and invitations. It comes with great wedding features such as couple timeline, the countdown for your marriage, location map to so no one will be late in the name of being lost or confused on the way, bridesmaids, groomsmen, gift registry RSVP and so on.
This template is fully responsive and already customized for mobile phones. It has three different versions that are the top and bottom bar, one page and a sidebar. Apart from that, your audience will be able to enjoy a story page or a story timeline, background music and a full-page gallery. This solution is made to assist both freelancers in the wedding industry and professionals. The fact that it is laid in an attractive manner will ensure that you get many views with people who want to understand more of what it entails and hence gain a lot of traffic for your site.
Wedding Album
If you need to create a wondrous and remarkable wedding album website, you should definitely set your eyes on this out-of-the-ordinary template. Without a doubt, its bright and unusual design will become a real attention-grabber for your target audience. It comes alongside a huge number of marvelous options that will assist you in building a modern website. Your visitors will be able to get a user-friendly navigation that will guide them through your online-project.
You will get eye-catching animations that will brighten your website up with some amazing smooth effects. Moreover, it will be possible for your visitors to find all necessary information about your wedding within seconds thanks to a wonderful search form. In order to give your design some little changes, you can make use of modern Google Fonts. They will certainly allow you to make your content look more alluring and your articles become more readable.
Mike & Lora
A beautiful theme made for those people who dream of getting a truly eye-catching wedding photobook website. It will certainly catch the eye of your potential readers with its attractive appearance and various fully-fledged options that will provide them with a great user-experience. First of all, they will get a perfect navigation that won't allow people to get lost on your website. This amazing design has a two-column content positioning that will certainly make people adore your website.
Your visitors will get some powerful web forms that will turn your website into a credible one. For example, a marvelous contact form will allow them to ask you various questions regarding your photo album. If they want to find all necessary information by themselves, they can pay their attention to a stunning search form. You can also make use of such options as a Google Map and Google Fonts in order to add some interesting tricks to your online-project.
Wedding Cake
Wedding Cake is a sweet and lovely template that will capture the attention of every person with its attractive appearance and powerful functionality. Without a doubt, this impressive template was designed to promote every wedding cake company at its best. In such a way, you can be sure that its remarkable design and marvelous functional tricks will become your perfect assistants in bringing your website up to the top.
A two-column designed that is not cluttered with some needless elements will focus the attention of your target audience on the crucial content. It comes alongside a contact form that will make it possible for your potential customers to get in touch with your professional team. A great search form will allow them to find all essential information immediately. You can also easily freshen the look of your website up using some powerful animation effects. Don't forget to take advantage of amazing Google Fonts to make sure that typography will also convey your message.
Wedding Agency
Obviously, a wedding agency template is vital for all professional wedding planners. A simple design with a touch of romance will work perfectly in showcasing your services, decorations, products, and portfolio. If you are interested in building or creating a website for a wedding invitation, this template is certainly the perfect solution. Its colorful design is completely responsive and designed perfectly on different resolutions, which is inclusive of retina displays. It's the simplest thing to showcase your wedding project, with an amazing slider gallery and great video blocks.
The vibrant parallax effect will make your website rock. There are different blocks in the template and many customization options that will make your website stand out. You will get full support even after the job is done, extensive documentation and a pricing table are amongst the numerous benefits that you are set to get us. You will have a website that your audience cannot resist.
Glanz
Glanz is a modern, flat and clean one page that can be used for business as well as other things. It is a great template for wedding engagements and invitations. It can work on desktops and mobile devices in general.  It features many things which are of course advantageous to your template. A few of those features are that it has a child theme support, its retina ready, fully responsive, it has the capability to display an unlimited number of images and has a slideshow, has a countdown for the wedding. The fact that it can be used for business templates makes Glanz a rock star. Of course, every business requires a site in order to inform customers of their products and services. This template is best when it comes to ensuring that your audience is attracted and glued to its purpose. You can without a doubt brighten that wedding or business plan with this template.
Lovely Wedding
It is a fully responsive template, Lovely wedding is very elegant, modern and a beautiful template for a wedding. The template has been built by the use of various modern tools. We have added two different types of menus that is the top and the sidebar. All the details and information about the couple, for example, the countdown, their love story, bridesmaids and groomsmen and all kinds of wedding features have tried to be put to use. With the lovely wedding template, you can change the theme color anytime to according to your preferences. The best thing about it is that the RSVP form can actually send an email. For couples who want to build their wedding website, this is the one for you as it has all the features that couples want. It is simple to understand and work with because we understand that you do not want a website that will stress you considering that planning a wedding is already hectic. It is therefore easy to customize.