Medium was created back in 2012 by Ev Williams, one of the Twitter founders. This website grew into an extremely popular blogging platform, which gets around 180 million visitors monthly. Are you dreaming of creating a similar blogging platform? Then, check out my list of the most popular blogging WordPress themes like Medium!
Medium blogging platform was developed from scratch using custom code. If you don't feel like you can do the same trick, the best way to create a website like Medium is using WordPress. This CMS is #1 in the world, flexible, extendable, and ideal for blogging. With the best blogging WordPress themes like Medium, you get all the tools you need to create a professional website, including a drag-n-drop editor, e-commerce, top-notch website slider, better UX, attractive galleries, etc. Install one of these templates, and go viral on the Internet with an impressive WordPress blog!
If you're dreaming of a site similar to the famous Medium, do not postpone creating a modern, clean, and multifunctional WordPress blog until tomorrow! Download one of the most popular WordPress themes like Medium today and create a competitive website in days. Reliable documentation and technical support are always behind your back!
Avventure | Personal Travel & Lifestyle Blog WordPress Theme
Let's get started with the modern Avventure template for travel and lifestyle blogging. It's ideal for sharing your travel stories, lifestyle news, personal stories, or any other articles. At the same time, Avventure not only works as a perfect personal travel blog but is also a great match for a professional magazine, niche blog, entertainment project, etc.
Avventure template is one of the new blogging WordPress themes like Medium. It's built with and fully supports Elementor WYSIWYG Website Builder. You also get access to 50+ pre-made content blocks to quickly create and customize any type of content. This theme is also compatible with such plugging as The Events Calendar, Essential Grid, Give -- Donation plugin, etc. On top of this, Avventure has lots of beautiful homepages, modules, shortcodes, and handy functions.
Blabber | All-in-One Elementor Blog & News Magazine WordPress Theme + RTL
This is one of the most popular blogging WordPress themes like Medium and for a good reason. This vast template is ideal to create a strong, versatile, and easy-to-manage blogging platform that touches upon a lot of topics from travel to science and from photography to food blogging. There are more than 20 ready-made skins available within the Blabber theme! It will take just a few minutes and a single click to install the skin you like and start using it for your online resource.
Blabber theme boasts of bold design decisions, clean layouts, and useful functionality. It allows you to sell products online, collect feedback from website guests, and effectively promote your services online. Recently, Blabber was extended with a new Public Health skin that's an awesome match for COVID-19 and lockdown related websites.
Vagabonds | Personal Travel & Lifestyle Blog WordPress Theme
Vagabonds template stands apart from the crowd with its breathtaking, spacious, and clean interface. It incorporates a number of unique pages that let you create an accomplished online presence and launch a strong platform for blogging. Vagabonds theme lets you add the content of 20+ types with WPBakery Builder, modules, and shortcodes. You also get access to multiple color options, so that you can change the color palette of your website, whenever you feel like doing this.
From the functional standpoint, this is one of the best templates for blogging you can find. It supports a number of most-wanted plugins for WordPress, like MegaMenu, WPML, Parallax, Slider Revolution, Give-Donation, and others. Thanks to Google Fonts integration, your posts will always be readable, well-structured, and visually appealing. Since the recent update, the Vagabonds template features a new skin with an awesome top Autoplay Video Background section. Enjoy!
Gutentype | 100% Gutenberg WordPress Theme for Modern Blog + Elementor
Is Gutenberg your favorite editor for WordPress? Then, meet Gutentype -- one of the most flexible and versatile Gutenberg WordPress themes. This best-selling template has been sold more than 1,5K times. It's a go-to solution to create any kind of an online blog, including modern personal, lifestyle, and travel blogs, as well as online magazines, stores, startup and cryptocurrency websites, etc.
Gutentype template features more than 15 stand-alone skins with all the pages you need for your topic. Just choose the skin you like to get an 80%-ready and professional design of your website. Gutentype is 100% responsive and optimized for ultra-fast performance. It incorporates all WooCommerce pages you need to run a WordPress online store. With Gutentype, you also get access to professional block styles, all 30 Gutenberg blocks, and amazing widgets and shortcodes.
Rosalinda | Health Coach & Vegetarian Lifestyle Blog WordPress Theme
Rosalinda is a highly likable, clean, and user-friendly WordPress theme for a vegetarian lifestyle blogger, health coach, dietologist, or nutrition adviser. This is one of the best blogging WordPress themes like Medium with rich blogging functionality. Create your website with this versatile health coach template, and it will be simple to share anything from scientific data to healthy recipes and daily lifestyle tips online.
Built with Parallax Effect, Slider Revolution, and the latest content animation, Rosalinda has a 5-start user interface that's optimized for lead generation and conversion. This theme also features an amazing Image Gallery built with the help of the Essential Grid plugin. Rosalinda theme package also includes WP Bakery Builder -- one of the best modern drag-n-drop editors for WordPress websites. Last but not least, this theme also displays your Instagram feed onsite to boost your follower count.
Aldo | Black and White Gutenberg Blog WordPress Theme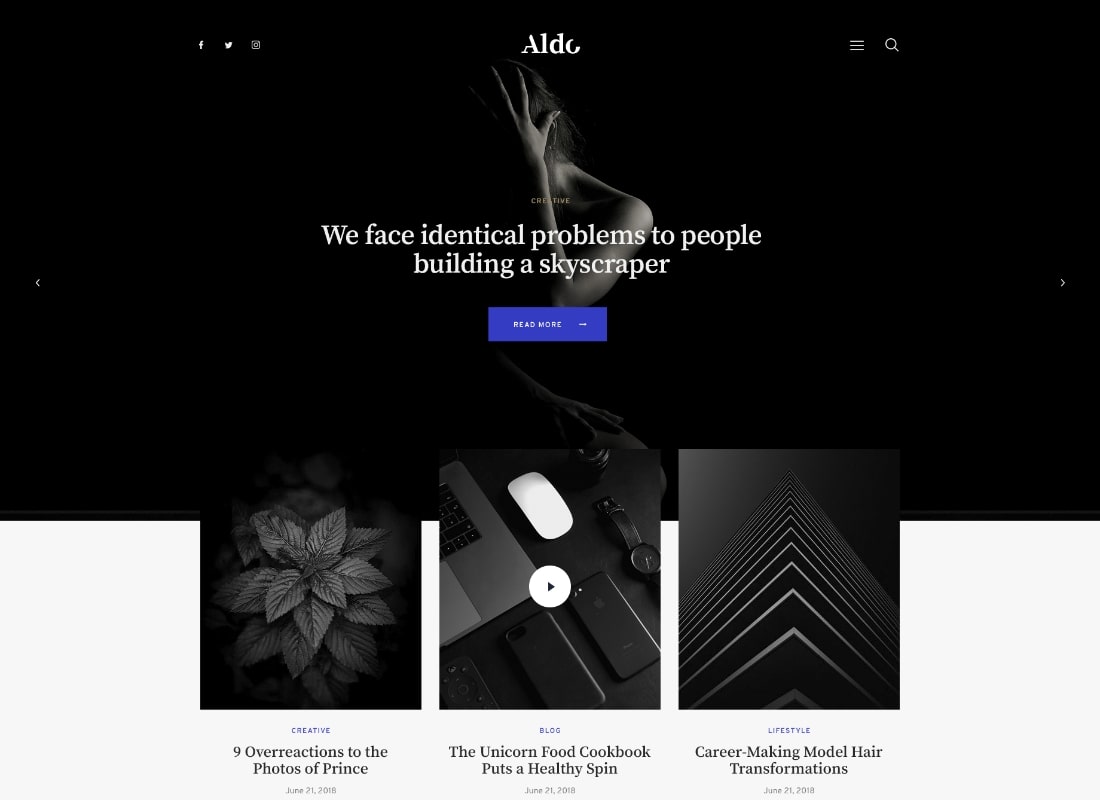 Aldo is one of the most beautiful blogging WordPress themes like Medium. This black-n-white template is a perfect choice to power any kind of personal, lifestyle, or fashion blog. It offers you a trendy design, professional image integration, Slider Revolution, Parallax backgrounds, and on-scroll content animation.
Aldo template was built by a pro team with Gutenberg lovers in mind. It offers you a rich collection of Gutenberg-ready pages and blocks that you can edit with ease in distraction-free mode. You also get access to advanced block styles. You can also use 80+ theme shortcodes to quickly create new content (100% Gutenberg-compatible). Use Aldo to create a recognizable, authentic, user-friendly and functional blogging platform!
Wanderic - Travel Blog & Lifestyle WordPress Theme
Are you looking for a template that makes creating a gorgeous travel website simple? Wanderic is well fit for this purpose. This template has 3 stylish Homepages that showcase lots of imagery, video backgrounds, Parallax effect, amazing content animation, bold captions, fun icons, and more. Use Wanderic to promote your travel agency in social media. Thanks to powerful social media integration, you can display Instagram Feed, Social Sharing and Follow Us Buttons with ease.
With Wanderic template, building a travel company website, traveler blog, or travel guide online presence is as simple as ABC. You get access to Elementor Builder -- one of the most comprehensive builders for WordPress. With Elementor, it takes no effort to edit the existing and create new website blocks and pages. The whole process is thoroughly documented. In case you need any additional assistance, don't hesitate to reach out to the online support!
Katelyn | Creative Gutenberg Blog WordPress Theme
The next template that I want to present is Katelyn, a powerful and clean WordPress theme created for viral blogs and personal portfolios. To edit Katelyn, just open up your Gutenberg editor instance and tap into the full collection of 30+ blocks and countless options this builder offers. As you progress, use Gutenberg to create and edit content in distraction-free mode. Katelyn theme is also compatible with Instagram Feed, MailChimp for WP, and Contact Form 7.
Katelyn template includes 4 Homepage layouts to choose from. This theme is based on the powerful ThemeREX framework, so that your website would look perfect on any device including smartphone and Retina screens. Katelyn template is also remarkable in terms of page loading speed and performance. It scores as high as 98% in Google Pagespeed Insights.
Especio | Personal Gutenberg Food Blog WordPress Theme
If you're passionate about cooking and sharing recipes, use Especio, one of the best blogging WordPress themes like Medium for cooking, healthy food, nutrition & lifestyle blogs, or for a food e-store website. This template boasts of a fresh, clean and trendy user interface to create a cooking blog you've always dreamt about. Especio offers you not one but 4 ready-made cooking website templates (skins) to let you choose the one you like most. Each of these skins harbors a wide range of pages for next to every purpose.
This Gutenberg-ready template is compatible with all 30 Gutenberg blocks and turns customizing your website into a piece of cake. In addition to this, this cooking blog template incorporates the following most-wanted plugins for your convenience: WooCommerce, ThemeREX Addons, WooCommerce Wishlist, MailChimp, Instagram Feed, YITH Compare and others.
Fribbo - Freebies Blog WordPress Theme
Do you want to create a website for sharing free website templates, images, fonts, icons or other digital products? Fribbo WordPress theme is a perfect choice to power a fully-fledged freebies blog or online magazine. This template features 6 versatile Homepages for your website, 3 amazing Blog styles, and 4 attractive Single Post variations.
Fribbo template is feature-rich and versatile. It's compatible with the leading Elementor WYSIWYG Builder and 50+ professional website blocks. What's more, you get access to the Download Manager, which allows you to upload and add media to your website with ease. In addition to this, Fribbo theme incorporates Color Scheme Editor to let you adjust anything from minor color choices to the entire color scheme of your website. Last but not least, this template is responsive, Retina-ready, optimized for SEO, and compatible with WooCommerce.
Gloss | Viral News Magazine WordPress Blog Theme + Shop
Now I want to introduce Gloss -- one of the best blogging WordPress themes like Medium for a technology, business, professional, cryptocurrency, world news, or lifestyle blogs. This ultra-clean template features 5 different Homepages, a variety of custom widgets and content blocks, Elementor Editor support, and a great number of cool blog post layouts (e.g. Chess, Classic, Portfolio, etc.)
Gloss template is a great match not only for a technology blog, but also for a single product/company landing page or online store. The template includes all the pages you need and WooCommerce functionality for this purpose. No doubt, this template is easy-to-customize. It's powered with the powerful ThemeREX core, which lets you access 750+ WP Customizer settings. If you ever feel like recoloring your website, this is a no-brainer with the pre-built Color Scheme Editor. Try Gloss today, and build a competitive tech website today!
Modern Housewife | Women & Family WordPress Blog Theme
Do you want to power a personal blog and share your insights about parenting, pregnancy, lifestyle, and other topics? In this case, Modern Housewife template will be a perfect choice to create an attractive and user-friendly WordPress blog with ease and go viral with it! Consider this template as it offers you a trendy warm pastel color scheme, 2 Homepages, a wide range of blog layouts, Instagram Feed display, Recipes section, and a handful of other awesome features.
Modern Housewife template doesn't take a steep learning curve to create a website. You can install its Demo Content in a single click. To customize the theme and add new content, use the pre-built comprehensive WP Bakery website builder. Modern Housewife template also offers you such most-wanted blogging tools as Likes and Shares for posts, social buttons. 20+ modern post animation, Instagram Feed, various widgets & shortcodes, and more.
Marcell | 20+ Layouts Multi-Concept Personal Blog & Magazine WordPress Theme
Now I want to introduce Marcell -- an all-in-one, go-to template to create a modern minimalist WordPress blog. This is one of the most popular blogging WordPress themes like Medium with 20+ Homepages and 5-star user rating. This robust template lets you find your own expression on the Internet and share articles, stories, travel notes, world news, or entertaining content like a pro!
Built by the professional ThemeREX team, an Elite ThemeForest Author, this template has all the functionality you need to blow the competition out of the water with your blog. With Marcell, you get one-click installation, modern design, powerful framework, Header & Footer Builder, professional support and much more. Besides, Marcell theme has everything to perform fast and get a high ranking in search engines.
Hobo | Digital Nomad Travel Lifestyle Blog WordPress Theme
Are you looking for a conceptual, modern, and authentic WordPress template to start a WordPress blog with? Take an eye at Hobo WordPress template, which is designed to be fresh, modern, energetic, and wild! This WordPress theme will be a perfect choice for a lifestyle blogger, photographer, traveler, or nature lover.
Hobo template is built with user convenience in mind and includes a number of handy features. First of all, this template offers you extended blogging functionality and all the layouts and block presets you need to create new content with ease. In line with other best blogging templates like Medium, Hobo theme lets you edit your website with drag-n-drop thanks to the pre-built Elementor Builder. With plenty of pre-made Homepages, widgets, and shortcodes, Hobo will be ideal for your future project!
Bazinga | Modern Magazine & Viral Blog WordPress Theme
To create a viral modern blog or online magazine try building your website with Bazinga template! This 2020 template is a great match for next to any kind of a blog, be it lifestyle, business, design, cryptocurrency, or other topics. At the same time, Bazinga template is colorful, refined, attractive, and trendy to ensure that your online magazine is a cut above the rest. Thanks to Instagram Feed display and rich social sharing options, you get a chance to promote your social media accounts more effectively.
Bazinga template is a go-to solution to create a Medium-like website. With this template, it's simple to create and post quizzes, surveys, polls, and screencasts. Moreover, this template integrates powerful plugins, such as Slider Revolution, Essential Grid, WP Bakery Builder, ThemeREX Addons, and others.