Every human being remains a member of a community as it is just a normal part of being social. Thanks to the World Wide Web we have much more opportunities and can not only explore different content but also become a participant of online communities and discussions initiated in different parts of the World. The number of online communities and forums is mushrooming, which is not surprising, given the fact there are endless website launching opportunities for content creators today.
If you are about to launch a forum or a community of any focus the best community WordPress themes will come in handy. All the themes listed in this article include alluring homepage options for different purposes. Apart from homepages, themes include inner pages, pre-made content blocks, widgets, buttons, and other content bits that will help you create an alluring and functional online community.
Community WordPress themes must include members and team management options, an advanced calendar, events running functionality, a clever online messaging system, file storing & sharing functionality. Otherwise, there is no point in buying a theme for a forum that features none of these.
Another important aspect of the best community WordPress themes is customizability. Buying premium drag and drop compatible WordPress themes is the best choice when you don't want to waste time and money on website design customization. You can use any of the pre-made pages as a base for a custom design that matches your requirements and covers the needs of your particular online community.
Check out the list of the most inspirational community WordPress themes in 2021.
Micro Office | Extranet & Intranet WordPress Theme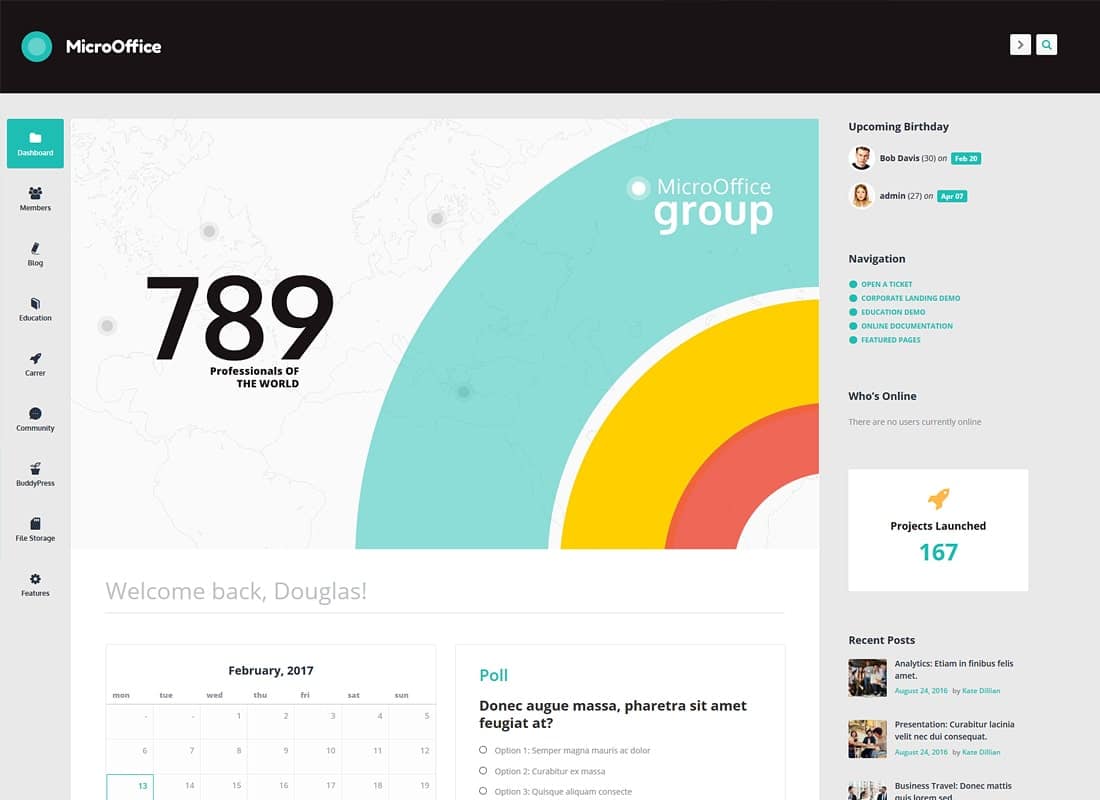 Do you want to create an online community with no difficulty? Then you should check out the demo version of the Micro Office. This theme is a perfect option for forums as it has a design made for extranet and intranet websites. 
This theme features options for the representation of events, calendars, widgets, graphs, business notifications sharing, groups and departments management, pols and research running, quizzes and tests creation, advanced file storage/sharing functionality. 
The theme is compatible with the WPBakery Page Builder so you can change any aspect of the theme without touching a line of code. It is packed with stunning ready-to-use elements, including tabs and buttons. Micro Office theme provides you with an opportunity to create a clever website structure and build not only a beautiful but also a functional menu. The Mega Menu and Sticky Menus plugins support is included so you can organize your menu and integrate it with ads if needed. 
Not to mention the BuddyPress and EventON plugins compatibility that provides you with a toolkit for professional online community building and management and an event calendar representation.
Ludos Paradise | Gaming Blog & Clan WordPress Theme
To build an online community that works seamlessly use the best community WordPress themes only. Ludos Paradise is a premium option for bloggers and forum owners that need to refresh a website design in no time. 
This theme has a vivid gaming design yet can be changed to any project's needs thanks to drag and drop page builder support. This theme includes lots of shortcodes and premade elements for the fast and effortless customization of the theme. Ludos Paradise theme is the first option to check when creating a forum or any other kind of online community as it includes such features as live streams, members management options, ready-made forums and discussions, charts, events calendar. 
Apart from that, it can be used for commercial projects as well as the Ludos Paradise theme features support for WooCommerce - the #1 e-commerce tool for online entrepreneurs.
With the Ludos Paradise theme, you may rest assured in the theme responsiveness as its design looks equally stunning on a desktop and a mobile device screen. Retina-image support and cross-browser compatibility are also included. Ludos Paradise theme will help you to impress your online community members with its spotless look and extensive functionality. 
Alliance | Intranet & Extranet WordPress Theme
Enrich your website with the BuddyPress plugin to create a full-blown forum. It is even better to go for one of the best community WordPress themes that are compatible with this plugin so you refresh your website design and improve its functional capacity at the same time. 
The Alliance theme includes dashboards, polls, education functionality, appointments booking and management system, and BuddyDrive plugin support that allows sharing and storing files within an online community. 
This theme features premade homepage options and inner pages ready for use. The layout of this theme is tested on all popular devices so its responsiveness is proven. It is packed with iconographic elements that make the content look much more interactive.
Alliance theme is the best option when it comes to establishing smooth and effective connections between community members as it is bundled with the better messages plugin, which equips a forum with an Emoji selector, real-time messaging option, sound notification, file sharing functionality in messages, and an opportunity to have multiple participants in conversations. Alliance is a beneficial option for an online community of any focus and complexity. 
Windsor - Apartment Complex / Single Property WordPress Theme
There is no need to learn code or pay for professional website design services when using a Windsor theme for an online community launching. This theme supports both the most powerful WordPress plugins for a forum - BuddyPress and bbPress. 
The Windsor theme features the One-Click Installation option support that transfers all the theme data automatically. Apart from that, it comes packed with professional support and detailed theme documentation included. 
This theme features the user-friendly theme options panel, flexible color scheme, extensive typography options, a drag and drop page builder support, social media networks integration, advanced events and community management options, and much more progressive functions for a forum. 
Cloe Brooks | Psychology, Counseling & Medical WordPress Theme + RTL
Cloe Brooks is a premium theme designed by the top provider of WordPress themes on the Envato market. The team offers professional support to all their customers so users benefit from using ready-made community WordPress themes. 
This theme was originally made for counseling purposes, so features such as appointment booking and management systems, online forums, pricing tables, galleries, news layouts, and an e-store layout are included. 
Apart from BuddyPress and bbPress, the Cloe Brooks theme features compatibility with WPBakery Page Builder, WooCommerce, Swiper and Revolution sliders, Essential Grid, and other premium WordPress plugins. 
Cloe Brooks theme has flexible color options and an extensive collection of fonts for the most precise customization of a ready-made WordPress design. 
Puzzles | WP Magazine / Review with Store WordPress Theme + RTL
There are not many spectacular and functional premium community WordPress themes compatible with BuddyPress and bbPress. Puzzles theme is one of the must-check options when building a forum or a corporate community in 2021. It has an outstanding modern design that catches visitors' attention and a clever interface that won't confuse community members. 
The Puzzles theme offers 5 ready-to-use homepage options, 6 color schemes, an online layout editor, 100+ shortcodes and widgets, top WordPress plugins compatibility. Moreover, it features advanced translation options provided by the WPML plugin and the RTL technology support. Like all the best community WordPress themes the Puzzles one includes file-sharing options, events management tools, corporate content representation, and lots of other advantageous features. 
This theme allows you to make the content shareable via social media, initiate discussions, share links, and create an engaging atmosphere that your community members will highly appreciate.
Au-Pair - Babysitting & Nanny Agency WordPress Theme
The Au-Pair theme is different from other community WordPress themes yet extremely effective. It was designed for babysitting services, however, you can use it for any forum and customize its pre-made design with a drag and drop page builder. The Au-Pair theme comes bundled with the WPBakery Page Builder that supports content blocks that can be used with no coding needed. 
If you want your content to look immaculate the Au-Pair theme works great as it has a mobile-ready and Retina-friendly design. Apart from that, there are mobile-friendly sliders included that improve website navigation no matter what kind of device community members use. 
The forum functionality is provided by the BuddyPress and bbPress plugins, the theme includes ready-made application and contact forms, pricing tables, contacts, team, gallery, about, and lots of shortcodes ready for use.
With the Au-Pair theme, you can create a beautifully animated website and equip it with a smooth scroll effect thanks to the Parallax animation support. The theme is made with clean and valid HTML5 and CSS3 code which is the best in terms of search engine optimization. 
Ester - A Stylish Multipurpose WordPress Theme
Check out one of the most multipurpose community WordPress themes on the market also known as Ester. With this one, you will establish a sophisticated look for an online community. It features the following homepage options: default, landing, single page, portfolio, presentation, boxed, minimalistic, creative, shop. This theme is bundled with the WPBakery Page Builder which turns this theme into a fully customizable one. 
Another plugin that makes this theme special is the BuddyPress which allows building a brilliant online community full of useful features for its management. The theme comes packed with shortcodes, various premade modules, tools for events/team/services/portfolio management. 
The theme is optimized for work in all modern browsers, has a fully responsive design, shows the fastest page load speed, includes detailed documentation and regular updates.  
uReach | Immigration Consulting WordPress Theme
If you are looking for a stylish theme that will help you to establish a strong connection with the audience then the uReach theme is for you. This theme features lots of customization opportunities, such as a color editor, a collection of fonts, a drag and drop page builder with a pack of shortcodes. 
This theme will help you to keep your project organized thanks to such tools as online appointments booking and management system, an e-store layout, contact forms, Mega Menu plugin, sliders support, sticky menus support, Parallax effect backgrounds, and premium translation functionality that allows translating content in a variety of languages. 
uReach theme has a beautiful ready-made design and outstanding WordPress functionality provided by top premium plugins. 
Pet Club - Services, Adoption, Dating & Community WordPress Theme
Pet Club is a cutting-edge community WordPress theme that includes support for all the best WordPress plugins including BuddyPress, so you can create a forum of any complexity by yourself. 
The best thing about the ready-made community WordPress themes is that they come integrated with all the needed features for forums. File sharing functionality, advanced messaging options, education content building, an events management system simplify an online community launching and management process. 
This theme specifically includes an e-store functionality with advanced products and services representation displaying options, a ready-made community with testimonials and members that you can use straight away. To make your website look unique, go for drag and drop compatible community WordPress themes only as it allows you to create unlimited designs for forums and community websites of any focus.
Blessing | Funeral Home WordPress Theme
Do you want to restyle your forum in a flash? Use the Blessing theme for that purpose as it has a clean and smart design ready for use. 
This one is a bbPress compatible WordPress theme which makes it a perfect option for forums. Blessing theme includes several ready-made homepages, an online services cost calculator, WooCommerce store, price lists, price tables, online donations functionality, and ready-made contact forms. 
Blessing is a fully customizable WordPress theme that comes bundled with a premium code-free content composer. It comes ready for use on all devices, features Retina-image support, and cross-browser compatibility.
The clean and valid HTML5 and CSS3 code in the core of this theme will help you to boost your forum popularity and place it on top of Google.