If you are engaged in the field of education, it is of great importance that you build a reliable website. Our school websites templates can help you develop a site which is so impressive and brilliant. These templates are so amazing and unique that they give an exceptional look to your website. They help you build a top of its class website that is incomparable to others.
Keep in mind that your visitors may compose of children so make sure that it is user-friendly and easy to understand. Your visitors would prefer a website that is easy to navigate and full of helpful and good features. It is important that your site is optimized so your visitors can view it in any device.
The essential factors you need to focus on when choosing educational templates are appearance, functionality, usability, and optimization. Your website reflects your company, your services, and your products, so make sure to use templates that will help you to develop an appealing, professional, and polished website. A well-developed website can generate a positive impression and keep visitors on your site.
When it comes to functionality, these templates make sure that your site will work fast and correctly. A broken or poorly developed components will leave your visitors frustrated. Everything should work as expected, including contact forms, registration, site search, and so on.
Academics
This template has been tested in several browsers like Chrome, Windows Phone, iOS, Android and other browsers. The Academics features require some free external components like Google Custom Search for searching, Smarbib for publication indexing and Twitter widget for news. The main purpose of developing this template was to create an academic profile that is easy access from a smartphone. The Academics template is open to reuse under a CC BY 4.0 license. This license allows others to remix, build, distribute, and tweak upon AR commercially, don't forget to credit the original creation in the footer of the website.
Academics website template is a clear and viewable website in any screen size and device. You can use it for any site for educational purposes, even for kids' education, college, webinars, tutorial website, etc. The template has flat designed and can be customized easily based on your requirements.
Education Course
This template is predefined that will help you build your website. It can be viewed in any device and any screen size. The site can perfectly fit on different resolutions using a regular desktop screen to iPads, iPhones, tablets and small mobile devices. With a powerful template, you can build any school, college, high school, university, or even online education website fast. Visual Composer is used in building the theme with a convenient drag-n-drop PageBuilder. You can create an impressive college websites templates with this theme.
The template has a dedicated drop-down for all archived, upcoming, and running courses offered which has both offline and online uses. It's clean, simple, and crisp design will help you save a lot of your effort. The good thing about this template is that it is a retina ready, optimized for devices with HD display. The theme is designed specifically for institutions offering online courses, which accepts online payment method.
Learn
This is a premium educational template with lots of helpful features. It offers different homepage styles, three color schemes, teachers profile page, detailed course page, boxed and full-width layout are some examples. The template can be used for any learning site or online course. Register page and working login are working well with a subscription, password strength meter, and wizard subscription page. It also has a search bar that makes this even more helpful.
Learn website template is clean, flat multipurpose template designed for institutions, colleges, schools, and universities search engine website. Viewing it on any type of device is not a problem at all. You will not have difficulty opening it on any screen size. This template can be used in developing any type of websites. It has a built-in fancy style, but it can be customized depending on the user requirements. Learn template is compatible with all web browsers. Some of its business services are about, services, contact form and admissions.
University
University website template is clean, flat, and premium educational multipurpose template intended for colleges and universities. If you need a professional looking website that you can install and run right away in any reputed educational institution, this is a recommended template. You can customize your site easily. Although University is built in a fancy style, you can still use it as per your requirements.
Websites can be viewed using your tablet and smartphones. It is also compatible in almost all web browsers. University single page template includes business services like Programs, Gallery, About, Blog, and a comprehensive Contact form. You can develop an attractive and cool website with this template animations.
The template offers seven separate web pages and seven layout styles. It is informative but not overcrowded with information. Its inbuilt shopping page lets you sell your educational materials and other forms easily. University template is worth buying for.
KIDZCARE
An online-presentation of education can be not boring. It can become an extremely vibrant and impressive one. With the help of 30+ fully-organized HTML files, your website can turn into a huge attention-grabber. A stunning Parallax background makes an online-project even more inspiring. It also has a smooth scroll that allows visitors to get a pleasant user-experience. More than 19 additional pages allow to show off all aspects of your education center. About us, facilities, gallery, store, and many other things. This template can be also used to showcase preschool institutions, children groups, kindergartens, and other establishments. To cut a long story short, this template is designed to make sure that people will come back to your website. Let us pay more attention to other exciting options that come together with this website template.
10 homepage variations with different layouts and design;
a beautiful mega-menu design;
eight blog pages with various structures;
Google Fonts;
Ajax Contact Form.
Langerba
Langerba is a stylish template that opens a brand new world of opportunities. It makes it possible to present all reasons to start learning languages in the best possible light. Thanks to a fully-responsive design, you can easily boost a popularity your language center. No one of your visitors will be restricted by any limits in terms of their device or location. It is also easy to show whereabout of your school. Together with such an interactive tool as Google Maps, people will find your location in a matter of seconds. In order to make your texts readable, take advantage of eye-catching Google Fonts. They are easy to implement and give your online-project a creative look. So, if someone wants to assure people of taking up language courses, this theme is a perfect variant. By the way, it also has a few essential features to take a look at.
stick-to-top menu;
newsletter subscription;
contact form;
cross-browser compatible;
animation effects.
Campus Life
The Campus life template is complete with all the required features to set up a university, education or college style website. All the necessary areas you need on the front page of an education site is included. The website can be displayed in a clean, well-organized fashion. The developer includes multiple extensions and some custom areas which are documented on the "Tutorials" menu found on the demo.
Other impressive features include 100 collapsible core positions, two background styles, floating, fixed social icons, four custom highlight colors, and full-width menu option. You can access the website clearly in any devices and any screen size. This template is fully editable and is designed to help you generate quality leads online. Campus life is equipped with multiple headers, sidebar options, footer and over 30 ready-to-go pages. With this feature you will have the freedom to set up, manage and customize the model easily.
Modern University
Modern University is yet another amazing template one can use in building a college or university website. Although it is not offered for free, one will not regret spending money on it, since it can assure high traffic on the site. This template provides seven multiple header and footer layouts, which makes the website appealing and professional.
The website can be viewed in any device and any screen size. Images and text are also flexible so that they will be displayed correctly. This will boost your website conversion since your visitors will not be limited regarding their location or device.
Modern University template lets you develop a website for an educational institution of every type. Just like other educational templates, you can also create a shop to sell your educational materials with the school logo on it. The template has clear source code meaning it is optimized and easy to understand documentation, which makes the website easy to manage.
Cooking School
Cooking School template is a clean one-page cooking template designed and developed by bootstrap themes. It is recommended for café, catering, cooking, restaurants, chef, and bars websites. This template has added all the necessary section for all you need. Cooking School template designed with newest trends of technology and web design. The site can be viewed on any device and any screen size. Customizing it is not a problem since it includes all the features a user requires in building an impressive website.
The template is easy to customize, and it has other features like Google Font used, blog section, excellent fun fact option, and subscriber newsletter options. People would love the template because of its unique and contemporary design. You can add all the information you want to appear on your website and the Cooking School template will do the rest. The template offers a clean layout that enables visitors to focus on the information instead on the visual effects. It has a full- width slider located at the top, buttons, and images with hover effect.
Language School
This template can create a website with an innovative design and a welcoming one. It has radiant straightforward website template. If you are looking for a quick and creative solution to represent your first school online or elementary education, the language school website template is the best choice. This template has an impressive layout and is designed to rank well in search engines. You can view the website clearly on monitors of any device, small or big screen.
People will get attracted to its trendy and fresh page layout. Surfing the page is fast and easy. It has explicit, valid code, and clear guidelines will help you in editing this language school website template the way you want it to be. Dress up your site with this layout, and you will attract more visitors. PSD files included in this template are customizable and can be used by both beginners and experts.
School of Languages
The School of Languages template has an impressive look recommended for course providing agencies, training institutes, and other education associated websites. The segments and layouts of the template are arranged logically, which makes this template ideal for corporate sites. It features sticky top menu, chat options, and smooth scrolling. The School of Languages is compatible with almost all browsers and supports the Google web fonts making this template very flexible.
The School of Languages is designed with an impressive framework, which means it can be perfect for different kinds of devices and browsers and more essentially you can download this for free and can be modified for your present and future website projects. The school website has an about section to inform the users about their school and education system. It has a contact us form with proper navigation system and menu, it has a slider in the home with school images on it and can make the site richer and trustworthy.
Educat
Educat is an educational web template where you can build anything you want that looks straight to the point in Agency, college, education, teacher, blog, study, portfolio, and university. The template is very flexible with lots of amazing features and options. You can view the template in any type of device clearly and accurately. Educat teacher website template files are well-arranged and named appropriately which makes it easy to update and customize. There are 12 PSD files all in all. You can build great website layout using this template.
PSD files include the home page, about us, latest news, courses, event page, news details, product page, and product details. This template has a modern, flat and creative design with lots of possibilities. It is compatible with almost all browsers like Safari, Firefox, Chrome, Internet Explorer 10, Vivaldi and others. The website can be viewed clearly on any size of screen big or small. Buying this template is worth it.
Swimming School
Parents would love their children to engage in an all-around development such as swimming. The first thing they would do is to look for the best training centers or swimming schools. If you are into this kind of business, it is important that your swimming school website template will attract parent's attention easily. This template is designed on contrasts – white main page area and dark blue background. This will increase the readability and visibility of the content items.
You will find the most vital information on the homepage. The template has four colored banners in the center of the page that are helpful in showcasing main services of a school or center. It has a dynamic slideshow that is ideal for displaying pictures of pools, pupils, interior and others. If you want your business to progress, this theme is the perfect solution.
Education
In creating a website for learners, it is important that the appearance is inviting at the same time offers the functionality needed to help learners through their course. Education Website Template possesses these qualities and more. The template has a clear and welcoming design, with yellow as its default color to add warmth to your website. Education offers nine demo layouts which you can import with one click. You can create other layout and make further changes on it with the use of the bundled plugin.
Some of the add-ons within the functionality includes the capability to designate co-trainers to courses, content drip type of courses, and issues certificates – which help build an impressive, powerful theme. Adding text and image is a breeze to inform your customers about your business easily. Your target audience can also access your website on any device, and it shows up clearly on any screen size.
eLearnix
Are you in search of a website template that will work accurately on both PC and phone? The eLearnix educational template can adapt its layout to the proper width of the device. One can view it clearly in any screen size. This template includes four major layouts including tablet, cell phone, desktop, and smartphone. It has a script that can easily adapt to the gadget and selects the proper layout. The eLearnix template includes multiple secondary width layouts and has several content pages that match the primary tabs.
Simply replace the sample content in the template and the eLearnix will do the rest. As a whole, this eLearnix website template is a great startup for your website as it is already optimized for different devices. This template is also called template 56068 and can fill a width with 2050 pixels. eLearnix has a total of twenty-five downloads since ArtVertex developed it.
Private Teacher
Private Teacher template helps you develop a personal private tutor website. It is a ready-made private home tutor's website that can be used to develop corporate or individual web pages. You can create your site in a few minutes, all you need is to add the content in the editor, and the Private Teacher template will do the rest. You have the option to personalize it or not. The website created using this education template can be viewed in any type of device and screen size as well.
Creating a page for your lesson is fast and easy. Your visitors can view the options, and it will be easier for them to click their choices. The web layouts focus on website content. This one-page theme template will help you present your online teaching courses, services, features, and classes on the homepage. The four-column service section lets you display your teaching facility such as online registration form, local tutors, online classes, etc.
Business School
This is a stylish and clean website template ideal for web designers, web developers, art professors, and is very helpful for developing art school websites and pages. The Business School Website Template is easy to use and for designing the most innovative web pages. The site is viewable in any type of device and any screen size. It is full of amazing parallax effect, cherry frame network, and cartoon fonts which makes it widely used.
This template is created by seasoned designers and offers great solutions for developing a profitable and up-to-date website. Your website will be represented well on the net with this template. The Business School Website Template is designed with a contemporary style theme perfect for educational institutions, training institutes, colleges, schools and a lot more. You have the option to fully customize it and is developed using the latest in technologies. It is not offered free, but it's worth your money.
Baby Kids
This is a multi-page website and a multipurpose theme. The package includes files of all pages optimized to help build a simple but reliable website. You have the option to customize it depending on your requirements. It is recommended for primary schools and elementary. The colorful graphics are perfect for toys and children stores. This template can be adapted to a different industry; it can easily adapt to all your needs with the help of the custom sections like events, prices, education activities, packages, teachers, prices and a lot more.
Baby Kids template is perfect for any type of school, primary, secondary, kindergartens, academics, universities, and colleges. The template is also recommended for any educational activity. It has a specific page where you can sell your services and products. The graphics are built with various shortcodes so that you can create the pages on your own. You can also schedule your school events via the pages, and each event will have its page.
Megacourse
Megacourse is a unique education website template intended primarily to build an educational website. It has a clean and professional look; this template is ideal to fit any online platforms associated with college, universities, and school. You can easily edit and customize the elements based on your requirements. The template has a retina-ready design which ensures that your website looks great, does not matter what type of device you will view it.
You can also use this template to build online courses with the separate assignment or learning pages and Account Pages. Building courses and lessons are easy by following three easy steps. It is very appealing because of its user-friendly feature. Built with a powerful framework and other features this template is almost perfect. The creative fonts and icons are supported with Google Fonts and FontAwesome. Megacourse also has User Profile Page and Login and Register Page one can use in building an audience.
EduGate
EduGate is yet another great template that is best perfect for education-based websites. Creating library, training center or you can also add details about colleges and schools. The template is multi-concept and multi-purpose thus you can use it any way you prefer. It has a clear and clean design that you can view in any device and any screen size. You can decide from the ten predefined color schemes with amazing contrast and high visual hierarchy for easier reading. Select the font you want to use to make it look professional.
To show your website appealingly, use the scrolling effect feature, the slider and animations that are included in the template. Also, this template features clear formatting which can be customized easily. Designed with a powerful framework this template is compatible in almost all browser. The codes are well-documented and well-commented, so you will not have any problem when making changes.
UniLearn
Unilearn is a template that adapts easily on any type of website. It is very powerful and features rich as compared to other templates. The template is retina-ready which makes it visually enticing and professional looking. The layout design can be viewed easily in any device and any screen size. Built and perfect for schools, universities, and colleges sites. You can also use this template in building an online course. Its high-quality codes are well-commented and extended. You can add the elements easily to your website whether you require creative fonts and icons.
The smooth and appealing design can be viewed with unlimited color scheme options. You can use different files to customize your website entirely. Also, you also get Twitter feed and working contact form to keep the users interactive. You can display attractive media files and contents with the use of the Rev Slider included in the template. Compatible with all the browsers, in any device even in mobile phones. The template is touch sensitive with great effects. Also, it is optimized for SEO which ensures that your site ranks higher every time a user does research.
Univer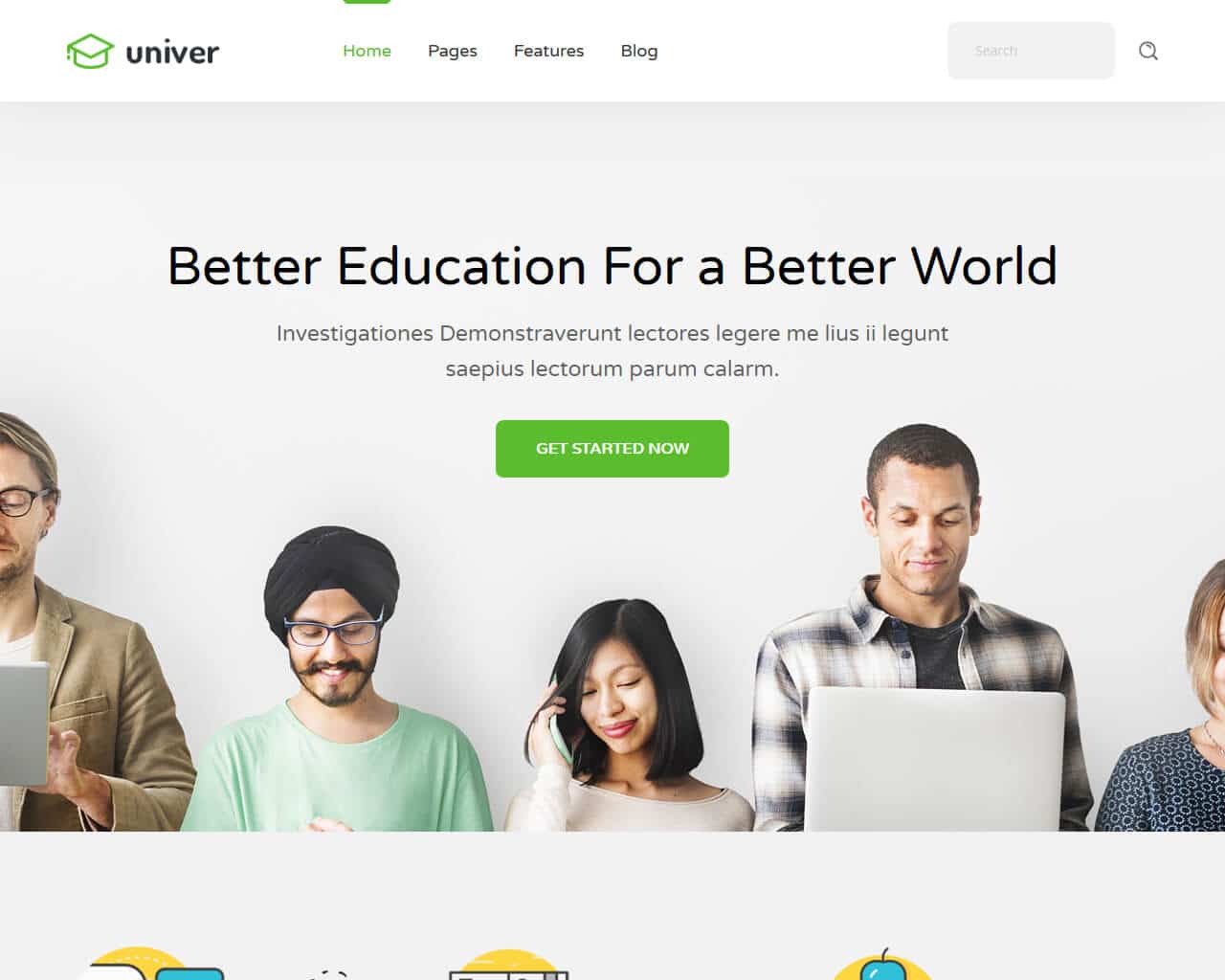 Univer is a template for an educational website with a great layout and several other advanced features supported. Having this pure design template, you can build an attractive and professional website easily. This template is designed for education and school website complete with important component including bonus pages which is associated with educational purposes like student highlight, videos, new events, photo gallery, and others.
This template has a flat design with five preset color styles including cyan, orange, red, blue, and green. To make a complete, highly functional and easy to customize the template, it has a powerful framework. It is recommended for university, school, college and different kind of institutions websites or an organization, a company and a lot more. This template is very trendy that most users will surely love. Since it's a premium template, making small modifications can be done easily but to a certain limit. The developer uses line vectors and modern colors to meet the present design trend.