WordPress Elementor template kits are breaking new ground in the website building. Templates offer a variety of fresh and non-trivial options for any project. A kit works even better for the precise design customization, as you get dozens of templates that cover different topics and comes fully customizable due to the compatibility with a drag and drop page builder.
Elementor is known as one of the most user-friendly content composers that even a WordPress newbie can use properly. In this roundup, you will find the best WordPress Elementor template kits bundled with Elementor, Elementor Pro, and iFeed for Elementor. A template kit is a collection of ready-made templates with moveable and manageable content blocks. The flexibility of templates allows you to create a unique design using a ready-made WordPress design.
Template kits are appropriate for a variety of projects, including medical establishment, blog, a non-profit organization, e-store, religion website, creative portfolio, and other websites. Check out the most amazing WordPress Elementor template Kits that will help you launch a site effortlessly in 2020.
Jacqueline - Spa & Massage Salon Elementor Template Kit
If you are a beauty niche representative then Jacqueline is one of the best WordPress Elementor kits for you. It features a collection of beautiful crisps designs suitable for a spa center and other wellness and beauty establishments. 
This kit includes over 15 fully customizable pre-made demos that you can manage using the Elementor Page Builder. Apart from the Elementor, you get the Jacqueline theme compatible with Slider Revolution, Contact Form 7, and the Essential Grid. Use these plugins to create a stunning unique website for beauty services. 
Helion - Creative Portfolio Elementor Template Kit
Helion is one of the newest WordPress Elementor template kits on the market that was made for artists and creative work representation. The drag and drop functionality ensures an extensive customization capacity of every ready-made demo that the Helion theme includes. 
With this template kit, you can create a business website, portfolio, blog, or an e-store. In the theme options panel, you will find flexible theme settings that are easy to manage and use for your project efficiency.
Dentario - Dentist & Medical Elementor Template Kit
Create a clean and functional medical website with the Dentario template kit. This one is designed specifically for medical websites and features lots of useful niche content. You get it packed with demos that cover different aspects of a medical establishment online representation. 
Thanks to compatibility with the Elementor Page Builder you can change the ready-made look of this theme in accordance with your needs. Dentario offers layouts to represent your team, services, products, prices, etc. 
FoodBlog - Elementor Template Kit
This is one of the most alluring and appetizing WordPress Elementor template kits designed to make your food blog stand out. With this kit, you can create a gorgeous conversion generating food blog without a need to touch code. The Elementor Page Builder compatibility ensures fast and effortless content management. 
The FoodBlog kit offers 10+ templates, including home, blog, menu, offers, price tables, and more. All templates come with responsive and Retina-friendly design. 
Vihara - Ashram & Buddhist Temple Elementor Template Kit
If you want to create an authentic design for your website without breaking a sweat buy the Vihara Elementor template kit. It is made for Ashram and Buddhist Temple, but using the Elementor Page Builder allows you to adjust its look to your preferences. 
The Vihara kit includes over 20 pages and blocks so you could fill in your website with quality content in no time. The kit has flexible settings and allows you to change any aspect of it. 
Holy - Church & Charity Template Kit
As the name implies, the Holy theme is made for churches and charity websites. It features donations functionality so you can use this kit for fundraising purposes. There are lots of ready-made pages so you could share all the needed information with the audience. 
Apart from the donations functionality, the Holy kit features WooCommerce compatibility, so you can sell products or educational materials through the website. You can collect payments, establish a currency switch option, showcase shipping methods, provide users with a tax calculator, etc. 
Katelyn - Modern Blog Template Kit
Katelyn is among the modest WordPress Elementor template kits that will suit a blog of any complexity and focus. This template kit offers lots of fresh and stylish pages that you can use straight away without much adjustment needed. 
To fill templates with the custom content use the Elementor Page Builder, as it is one of the most user-friendly content management tools with a comprehensive interface and premade content blocks included. 
Revirta - Virtual Assistant Business Template Kit
Revirta is a crisp and functional business solution. With this template kit, you can create a decent CV, virtual assistance business card, or a finance company representation. It is easy to launch a business website with the Revirta template kit as it offers a variety of templates for business promotion. 
You get it fully customizable due to the compatibility with the Elementor Page Builder. Each template is responsive and Retina-ready. Moreover, the Revirta kit is cross-browser compatible and works in Safari, Opera, and Chrome perfectly. 
Quanzo - Creative Portfolio Template Kit
If you want to build a creative portfolio but don't know where to start - check out the Quanzo template kit. This kit has a fully responsive design that is optimized for performance on all devices. 
This kit helps you to create the website easily by providing you with a drag and drop page builder capacity and premade content blocks designed for Elementor. 
Impacto Patronus - Petitions & Social Activism Template Kit
Check out one of the most effective WordPress Elementor template kits dedicated to social activism. It offers plenty of designs for a decent representation of a petition or a social movement. 
There are various pages ready for use and customization. The Elementor Page Builder helps to customize templates effectively and quickly. You will enjoy using a drag and drop interface.
Judy - Beauty Salon Template Kit
Refreshing a website design is always an excellent idea, especially when you use one of the most attractive WordPress Elementor template kits on the market. Thanks to the full compatibility with the Elementor Page Builder you can represent your project identity and customize the look of any template to your preferences. 
Judy template kit suits a blog as well as an e-project. With WooCommerce you can showcase products and services, share coupon codes, sell affiliate products, and receive payments through the website.
Great Lotus - Buddhist Temple Template Kit
Great Lotus is another vibrant and authentic template kit made for Buddhist temples. Buying this kit you get more than 16 creative demos for a detailed representation of your establishment on the web. Also, there are 12+ blog styles ready for use. 
If it is your first time launching a website using WordPress Elementor template kits use the drag and drop capacity of it to manage content in a live mode. 
Translang - Language Courses & Translation Services Elementor Template Kit
Translang is one of the best educational WordPress Elementor template kits. Templates have a modern design that adapts to all devices perfectly. 
The Translang kit is compatible with Slider Revolution, Essential Grid, and Contact Form 7 plugins. With this stylish, crisp, and functional template kit you will create an outstanding educational platform.
Blabber - Modern Blog & Magazine Elementor Template Kit
Blabber is another noteworthy WordPress Elementor template kit that will help you to launch a blog or magazine of any complexity. Using the Elementor Page Builder can help you to set up a unique design like a pro without touching code. 
Use stylish, trendy, and functional premade templates to represent your content on the WEB. The Blabber kit offers demos with responsive and Retina-ready design only. 
Rumble - Boxing, MMA & Fighting Elementor Template Kit
Check out the powerful template kit made for martial art and boxing gym websites. This kit comes bundled with the most powerful plugins, namely the WooCommerce, Envato Elements, Elementor, Elementor Pro, and iFeed for Elementor. 
This theme features templates that will help you to introduce your team, showcase services, and products, share prices, run a blog, establish communication with the audience through the Contact Us template, and more. 
Drone Media - Aerial Photography & Videography Elementor Template Kit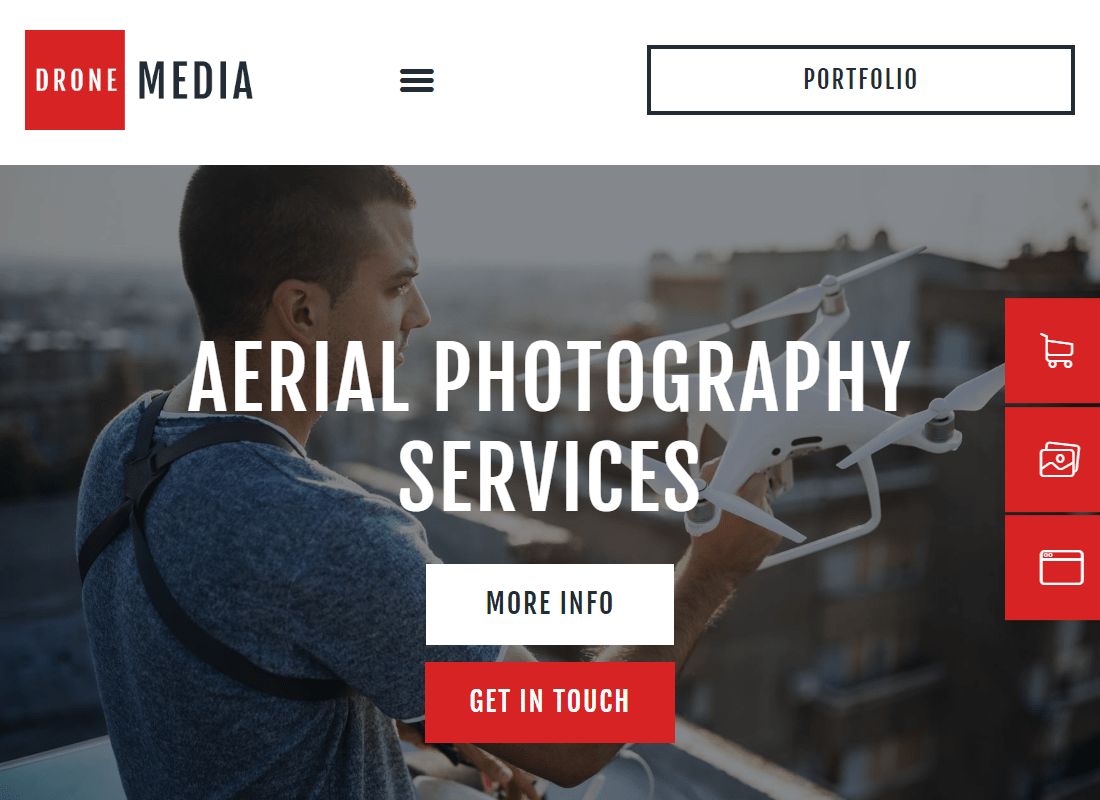 When crafting a website for a creative project make sure you pick a ready-made solution with a niche design. The Drone Media theme is made for aerial photography and videography websites. It is packed with templates that allow you to cover all the aspects of a photographer and video online representation. 
This theme includes 16+ creative demos and over 50 Elements for the Elementor Page Builder, Of course, all templates are responsive and feature Retina image support.