In the recent past, the Internet was used mainly for the search of information. Today the situation has changed tremendously. New technologies and many other factors have turned the Internet into a powerful marketing tool.
You can make a website with a cool design and hire a copywriter who will prepare interesting and exclusive content. But you will derail all the efforts if you do not pay enough attention to technical optimization.
I am sure you have already heard about SEO (search engine optimization) promotion of a website. Even if you are unfamiliar with this term, you know perfectly well that there are such search engines like Google, Yahoo, Bing, and etc. In response to your query, they provide you with the lists of websites. Some websites appear on top in the search engine, and you can find some resources only while scrolling through a few pages.
When developing a website or adding content to it, we often care only about user interface mostly. That is great! However, you should pay attention to the internal presentation of pages in the form of HTML5 and CSS3 code. This is especially important if we are talking about the future attraction of search traffic.
SEO techniques ensure that your website will appear in the top of search results. So, it is extremely important to build an SEO-optimized website to be successful in the online market.
Properly optimized source code is essential, and here are a few explanations why:
The code will be clean and beautiful, and its elements will be located in the right places;
this can significantly speed up the loading speed of pages;
SEO optimized source code allows your pages to get to the top of the search results;
it will increase your chances to achieve cross-browser compatibility.
It is no secret that search engines do not see the design of the page — they read its code. Like a human does – from top to bottom, from left to right. Thus, the most important elements or content of the page should be placed above the secondary elements.
High-quality, optimized website templates have cleaner code and faster loading speed. Now we are going to talk about such responsive templates which simplify your website building process and attract more traffic. Unfortunately, not all developers pay enough attention to this matter. I have decided to make my own list of the best optimized source code website templates.
Here you go.
Review of Top 10 Optimized Source Code Web Page Templates
Alo
Building your beautiful website with this multipurpose HTML5 template has never been easier. It is suitable for any type of website. Its main feature, in-built page builder, allows to make almost unique website design. If you are a website owner, you obviously want your website to be at the top of the search engine results. With this template, you will never go wrong.
Main features:
100% responsive
Extra pages layouts
SEO-friendly code
Canvas animation
Easy installation
Retina-ready
DotShop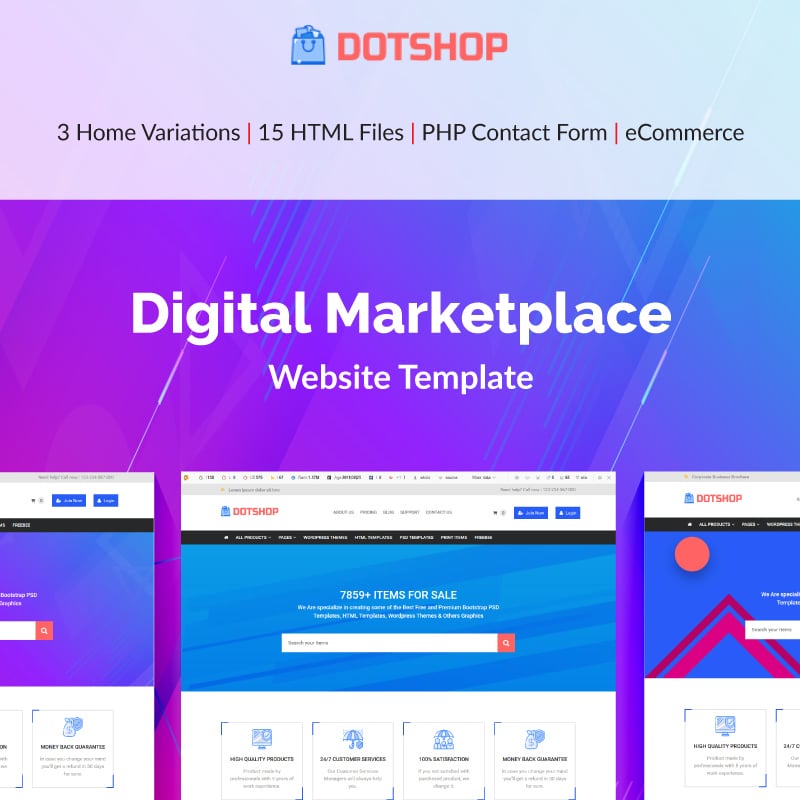 If you are looking for flexible marketplace HTML5 templates, DotShop is one of them. It is a perfect solution to showcase digital products online. 3 home variations, 15 HTML files, PHP Contact Form, and eCommerce modules come along with the product. At the same time, it is an SEO-optimized template. It has all the necessary features for better indexing. In case any questions appear, you can rely on 24/7 support.
Main features:
Modern flat design
Fully responsive layout
Cross-browser compatible
Social sharing features
Google fonts
Regular updates
Tutor
I am sure you are looking for a powerful template for your educational website to create a great learning hub for students. Tutor is a highly functional and flexible option that will achieve the best results. It is one of the most effective and customizable educational Bootstrap templates. With dragging and dropping functionality, you will be able to create a custom website to fit your needs. Fast loading, attention to the code, and fully editable design will not leave you indifferent.
Main features:
100% responsive design
SEO-optimized source code
Extra pages layouts
Team Members
Testimonials
Eduguide
Another great educational HTML template is Eduguide. Bootstrap framework-based and SEO-optimized, it will help to build a fully functional website. 5 home pages with various text styles and 52+ HTML pages are available for your convenience. This is a versatile product with its own web page customizer, a number of options, and remarkable design. You can easily express your creativity and change any element of the template.
Main features:
Cross-browser compatible
Rich color scheme
15+ shortcodes
Functional Contact Form
Style switcher
Image slider
Rongcha
Meet Rongcha, a powerful Bootstrap 4 web page template. It will be your perfect choice whether you are building a creative landing page or a fully-fledged website. Web designers built the template with care to make sure it will be an ideal solution for any tea store. The package includes a full-width slider, beautiful banners, product categories, blog module, and other features. Optimized source code will ensure great indexing and traffic results.
Main features:
100% responsive design
Cross-browser compatibility
Sorting and filter options
Rich customization options
Wishlist
Ajax search
Berra
Berra is a beautiful minimal website template for your portfolio web page. Excellent optimization for search engines, high-speed page loading, and various additional features are included. The template features 4+ home page, 54 HTML pages, 40+ portfolio pages, and 6+ blog pages. It is equally good for personal use as well as for commercial projects. Detailed documentation and round-the-clock support will help you to get the most of the product.
Main features:
Neat, clean and simple design
100% responsive layout
2+ footer variations
Valid HTML5 & CSS3
Google fonts
Cross-browser optimization
Tinker
Whether you are running a car repair shop, brake shop, or offering car wash services, Tinker is your best choice. This is a multi page HTML template with extended functionality and flexibility. The product comes with valid HTML5 & CSS3 code and dragging and dropping feature for enjoyable customization. Moreover, you will be happy to discover high quality 5 home pages and 86 HTML pages to fit your business niche. Increasing the rating of your site requires some effort. Simplify your website building process with an optimized source code template.
Main features:
Fully responsive design
Cross-browser compatibility
20+ shortcodes
Dynamic Contact Form
Google fonts
Shopping cart
Hidro
Hidro is one of the bestselling minimal eCommerce HTML5 templates. The product belongs to Bootstrap templates with clean coding and simple design. 6+ home pages, 18 HTML files, and a number of customization opportunities come with the template. Thanks to the eCommerce module, you will be able to guarantee a pleasant shopping experience for your clients. The template has optimized source code and complies with the best SEO practices.
Main features:
Fully responsive layout
Rich color scheme
Bootstrap framework
Fully editable page layout
Mobile layout included
24/7 support
Hello Resume
Whether you are a web designer, photographer, or developer, Hello Resume web page template is a great solution for a personal website. It belongs to 100% responsive templates with minimal and clean material design. With the help of the in-built page builder, you can customize the template to your preferences with no coding skills. The developers have implemented the best SEO techniques to ensure the site will have an excellent rating.
Main features:
Cross-browser compatibility
Hover effects
Filterable portfolio
Well-commented files
Google fonts
100% support
JobHere
Are you still searching for a job board landing page or a functional website? Stop searching, you have just found a clean and multi page template. JobHere is a wonderful solution for a candidate, career, requirement agency, and job posting project. The template offers job listings, resume posting, and career advice to build an interesting and quality website for hunters or job seekers. The clean and balanced design of the template will ensure that visitors will enjoy the look of the site and clearly see its main content.
Main features:
SEO-friendly layout
12+ inner pages
Blog module
Bootstrap framework
Mobile layout included
Optimized source code
Softwer
Building a nice and professional website for your mobile app development company has never been easier. Softwer is a modern HTML template that allows you to build content without any coding. As such, it's compatible with the Elementor page builder, which makes the site-building work a smooth track. On top of that, you want your site to provide a great user experience on all modern mobile devices and screen sizes. Great, responsive and optimized for the best SEO practices, Softwer helps the magic happen. Nothing to say about a pack of premium Jet plugins that allow you to add more interactivity to your site. On top of that, your site can go global and entertain users all around the globe. At last, take advantage of a bunch of creative hover effects, banners, sliders or progress bars to add a bit of extra vibe to your site.
BuildWall
When on the lookout for flexible HTML5 templates, BuildWall sticks out a mile. Designed for construction websites, it's a perfect choice for any corporate or business company. Thus, it comes with 11 unique home page styles, a bunch of Jet plugins, and tons of eCommerce options. As such, BuildWall allows you not only to showcase your services but also make profits online with no extra fuss. Feature-rich and diverse, BuildWall comes with 30 custom high-quality pages to showcase who you are and what you offer in a more vibrant way. Of course, forget not to build trust with your users through eye-catching pages of your blog. Want to get more creative? Poke around fully editable headers & footers. Wish to add more unique page layouts? So, do it easily by dragging and dropping.
Blitz
What is the best way to gain attention to your event or webinar? Indeed, with the help of a webinar landing page that helps you sell your coach programs. Haven't you experienced Blitz? The time is now. Standing out in today's highly-saturated market is a tough gig, without a doubt. Yet, when your landing page is built with one of the best-optimized source code website templates, everything becomes possible. Jam-packed with the powerful Elementor page builder, Blitz allows you to skip a lot of the time-consuming coding issues. Aside from that, you can poke around its advanced features, manage your color scheme or make any changes in our page layouts. On top of that, being Ecwid ready, it enables you to add a shopping cart on your site and sell seats online.
Yoha
When on the lookout for a powerful HTML template for your creative photographer site, go for Yoha. Well, it's minimalist and clean layout can help showcase your unordinary works in a way that catches every user's eye. Bright and stylish, it's one one of the best responsive templates that can help generate boatloads of qualified leads. Also, jam-packed with the Parallax effect, it adds a bit of extra vibe to your creative pages. Don't shy away from demonstrating your best works on your gallery page. Also, try your hand at creating new unique headers & footers on your own. Indeed, there's nothing to stop you from editing your visual blocks. All in all, a set of 50+ widgets from Jet plugins will come to your aid. At last, forget not that Yoha is optimized for SEO, so your site is more likely to shoot up to the top.
EcoDex
Meet EcoDec, a modern specimen of the best WordPress themes designed for food blog websites. Investing in optimized source code responsive templates is always smart. This is especially true for those who'd like to become online influencers. Whether it's a food blog, nutrition magazine or a food store, EcoDec fits the bill. Forget about mediocre designs that are boring to death. This time, your customization opportunities will have no limits. First, add as many new page layouts as possible and face no coding issues. Second, make sure your pages worth a visit. That's where different interactive effects and Parallax backgrounds would be a huge help. Fret not, that's not rocket science. By simply dragging and dropping things to where you need them most, you are able to see miracles happen. Interested in selling recipes or cookbooks online? Let Ecwid functionality come to the rescue.
Farmtopia
Farmtopia is an absolutely amazing specimen of multi-page responsive templates built with the Bootstrap framework. Take time to enjoy it's clean and eye-catching design that responds to all modern mobile devices, platforms, and browsers. To save you a ton of time, it comes with 2 beautiful home page layouts to choose from. Also, bundled with a set of advanced customization options, it allows you to get creative with the overall design of your site. Benefits include 10+ valid HTML files, Product Quick View, and WooCommerce support. Built in line with the best SEO practices, Farmtopia can help keep your site shot up to the top. Isn't it what you aim for? All in all, it's one of the best ways to make people talk about you and your offerings.
Resta
Looking for something special for your future restaurant website? Resta would be your best bet. Clean, attractive and responsive, it comes with valid HTML5 and CSS3 code and dragging and dropping features. Along with that, it comes with 6 beautiful homepage layouts to choose from. Want to challenge yourself as a web designer? No problem, get your hands wet into web design using Elementor page builder. As a result, you can create powerful Mega Menu, poke around color variations, save time while using custom shortcodes, and much more. Got some special dishes to advertise? Place them on your homepage to gain the attention you need. Without a doubt, well-commented HTML files and documentation would be a nice extra for you.
Beautyhouse
Staying top in the highly-saturated beauty market is a tough gig. As such, a serious business owner does his best to help its website to be easily found as close to the top as possible. Who said your beauty website can't keep its ranking high? Beuatyhouse is one of the best Bootstrap templates that can help your site appear for the relevant search keywords as high as possible. First, this multi-page template fits all kinds of health and beauty websites. Second, it's versatile and offers you a choice between 7 awesome homepage layouts. As a result, you save the day and skip as many coding issues as possible. If you want to add a bit of interactivity to your site, make the best use of hover effects, banners, animations, and many more. Daunted by a large number of options? No need, you'll see that it's not all that difficult.
Construct
Construct is one of the best multipurpose Bootstrap templates that come with valid HTML5 and CSS3 code. Clean and modern, it fits all kinds of construction, renovation, and building websites. First, it comes with 2 beautiful pre-designed home page styles to help get you started quicker. All in all, you'll get around 100+ HTML files to bring to effect the designed change. Second, Construct includes over 20+ custom shortcodes to help you save a ton of time. Flexible and easy to edit, they would be a huge help for you. Indeed, it's responsive and optimized for SEO, so your website will more likely to appear top in the search engine results. Got some special products or services to advertise? Place them right on your homepage sliders. The reason? It works and serves you well.
Asbab
Asbab is a true bounty for those in eCommerce. So, if you're looking for a high-quality solution that can help promote your reputation of excellence, Asbab is the best opt. Clean and minimalist, it stands out from the other WordPress themes for online shops. Spoil your users by convenience and funnel them step by step to the action that benefits your profit. How do you prefer your products to be organized in grids or lists? The same with blog pages. In total, you'll get 12+ HTML pages built with the Bootstrap framework. Indeed, you would like your customer base to grow. That's where a dynamic running contact form would come to the rescue. No more coding issues that make you head spinning. From now on, code like a pro and challenge yourself as a professional web designer with Asbab.