If you don't plan your website color, you plan to fail it. Color is among the most important aspects to work on when launching a website, as it is a potent conversion tool. There is a science behind the color pick when it comes to the visual design of everything and anything also known as color psychology. It tells how different colors affect our brain and push us to certain actions or sets a specific vibe/mood. We won't go in-depth with color psychology today but share with you a much shorter way to create a website with a color scheme that boosts online performance.
You might have heard of Pantone at least once. It features a color institute that provides the best color management, which most businesses and brands rely on, especially ones dealing with graphic design. Pantone announces "color of the year" every single year, and the next one won't be an exception. There are 2 colors the next year that the Pantone team believes will be able to spruce up any project in 2021, namely the Ultimate Grey and Illuminating Yellow. The team at Pantone tells these colors to show how two completely different elements can support and highlight each other's uniqueness. The Ultimate Grey acts as an enduring color and the Illuminating color spreads vibes of positivity.
It makes sense as we all need some extra sustainability and positivity in our lives after 2020, let's admit. So, today, we are happy to introduce you to the list of the best 2021 Pantone color WordPress themes that will help you to create an up-to-date website look, keep up with the hottest web design trends, and share positive vibes online in 2021.
Hobo | Digital Nomad Travel Lifestyle Blog WordPress Theme
Let us start with one of the most attractive 2021 Pantone color WordPress themes also known as Hobo. This theme originally includes grey and illuminating elements that appear the trendiest option for 2021. 
Hobo theme features fullwidth and boxed layout options. It has a fully responsive and Retina-ready design that will make your website adaptive and alluring no matter what devices your readers use for Internet surfing. 
This theme includes 6 premade homepage options that will help you to find the best option for your particular project and share content spectacularly straight away. 
Hobo theme is made for blogs and includes lots of useful blog features. Still, it doesn't mean you should skip this option when designing a commercial platform, as the theme is compatible with WooCommerce, which makes it suitable for online sales as well. 
FreightCo | Transportation & Warehousing Shipping WordPress Theme
FreightCo is a potent crisp WordPress theme that features the trendiest color solution for different projects. This theme features a handy language switcher and advanced translation functionality, meaning you can translate your content into a variety of languages. 
The theme includes dozens of shortcodes and widgets that you can use with a drag and drop page builder to create new designs and change the existing ones. 
There are lots of interactive and engaging elements that make the FreightCo theme an effective business WordPress theme. It features buttons and sliders, an interactive search mechanism, a beautifully built menu, neat sidebars, and much more. The theme comes with a stunning typography collection that allows you to catch visitors' attention and highlight the essentials. 
Marcell | 20+ Layouts Multi-Concept Personal Blog & Magazine WordPress Theme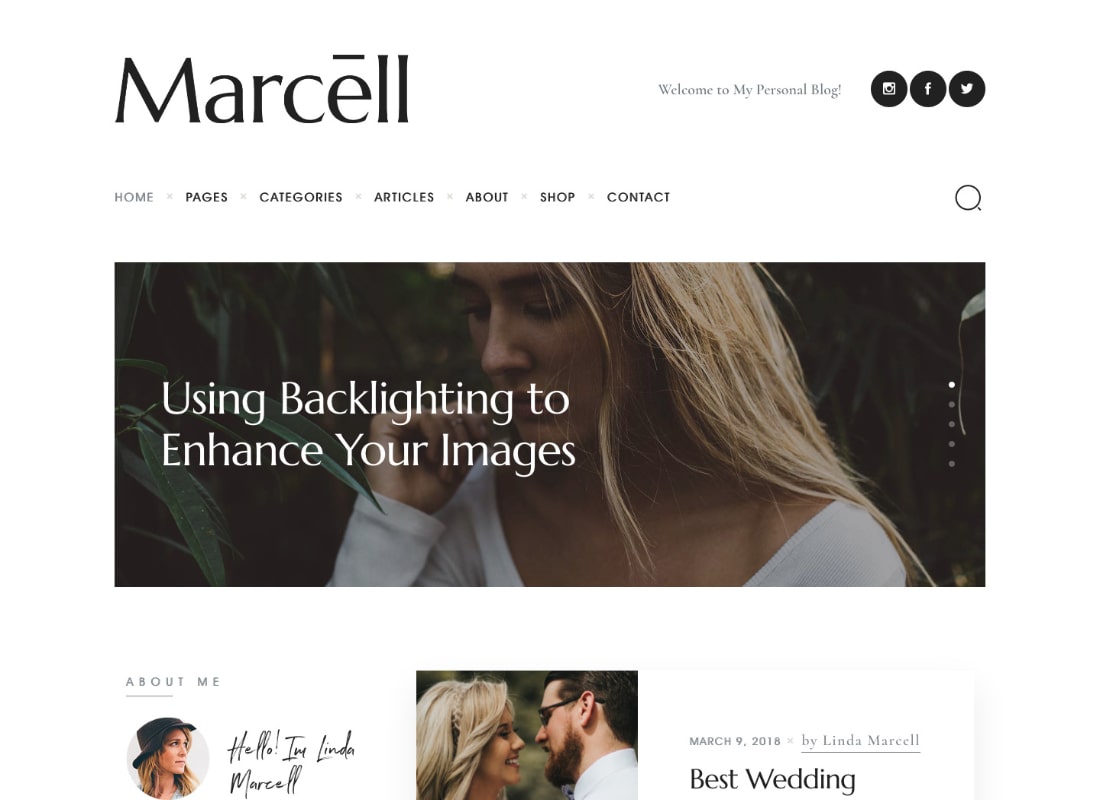 Marcell theme features not one but over 20 modern designs for blogs and other projects that make it one of the most versatile 2021 Pantone color WordPress themes on the market. This theme features the most useful blog features that allow you to manage your blog like a pro. There are dozens of post animations, different blog styles, flexible layout options, and a fully customizable blog feed. 
Speaking of the customization, the design of this theme is made using the Elementor Page Builder, which means you can use premade elements to change the theme look and move content blocks on a drag and drop basis. 
Apart from homepages, you get lots of inner pages as well, which you can also manage using a code-free page builder. 
Photolia | Photo Company & Supply Store WordPress Theme
Create a refined photography-oriented website using one of the crispest 2021 Pantone color WordPress themes. Photolia theme is made for the spectacular representation of products and services. It features the Essential Grid plugin that allows you to organize your content and create the most eye-catching gallery without any additional assistance needed. 
All the theme processes are described in the theme documentation. Thanks to a drag and drop page builder compatibility you don't need to have coding experience to change the theme look and use its functionality to your business's best advantage. Photolia theme provides you with the opportunity to manage the content intuitively and enjoy the customization process. 
This theme supports the WPML plugin, which means it is ready for translation, so you can provide products/services to a foreign audience. 
Mystik | Astrology & Esoteric Horoscope Fortune Telling WordPress Theme + RTL
This is a quite niche yet vibrant WordPress theme that deserves to be included in the list of the best 2021 Pantone color WordPress themes. Despite the fact it was designed for holistic activities representation, the Mystik theme is versatile enough to suit any other project. 
There are lots of premium plugins included, and you can utilize them to expand the functional range of your website. Mystik theme features the Elementor Page Builder compatibility, so you can craft new pages and change the ready-made design of this theme effortlessly. 
The theme comes with plenty of advantageous blog features, such as +12 blog demo styles, +20 post animations, a customizable blog feed, lots of engaging elements that make the blog clickable and shareable. 
Gridiron | American Football & NFL Superbowl Team WordPress Theme
Gridiron is a colorful theme with advanced sports functionality. This theme is powered by the SportPress plugin, which is one of the most powerful tools for sports content representation and management. 
This theme is much better than other ready-made sports themes, first of all, because this is one of the best 2021 Pantone color WordPress themes that makes it beneficial for the content representation in 2021. Another reason for you to buy this theme is the SportPress plugin equips this theme with ready-to-use sports presets, staff and players profiles, statistics, automated league standings, clubs, important events, and other useful elements.
The theme features support for all popular social media allows you to make your content viral. Gridiron is a responsive and well-animated WordPress theme that will boost your website efficiency. 
Impacto Patronus | Coronavirus Protection, Petitions & Social Activism WordPress Theme + RTL
The more Coronavirus protection websites are live the better. You can use one of the best 2021 Pantone color WordPress themes to create another one. This theme includes 8 creative demos that come compatible with a drag and drop content composer. Apart from that, this theme includes a user-friendly theme options panel that helps you to manage the theme via a user-friendly interface.
This theme is perfect for non-profit websites as Impacto Patronus comes with strong fundraising functionality that allows you to collect donations within the website. Impacto Patronus has advanced translation functionality and supports RTL, meaning you can share your content with people from different parts of the World. 
Vapester | Creative Cigarette Store & Vape Shop WooCommerce Theme
Vapester is a bright and eye-catching WordPress theme. It can be used for commercial websites and blogs. The theme has a modern and highly-customizable design. The content management functionality is provided by drag and drop page builder compatibility, meaning you can make it work for any project. 
The theme supports the Mega Menu plugin that allows you to organize content and make it easier for your potential customers to find the needed product. Another feature that speeds up the purchasing process is the interactive Ajax search mechanism that helps to narrow your clients' search and boost the sales level. 
The theme comes bundled with WooCommerce, so you get a powerful e-store ready-to-go. Thanks to this plugin you can monetize your online activity. 
Aldo | Black and White Gutenberg Blog WordPress Theme
Aldo theme is a powerful blog WordPress theme made with Gutenberg page builder. Its main goal is to provide you with the most impressive ways of content representation. It has manageable colors so you can make it suit your project perfectly.  
The Aldo theme has a fully customizable design. Apart from the Gutenberg, the theme includes shortcodes and Gutenberg blocks that will help you to change the theme look without much difficulty. It includes the detailed theme documentation with a guide on how to work with this theme. 
Aldo theme features the quality HTML5/CSS3 code in its core that was made following the best SEO techniques. This theme will help you to push content effectively without any additional investment needed. 
Sound | Musical Instruments Online Store WordPress Theme
If you want to establish a trendy website look for your project in 2021 then you should consider buying this theme. It features advanced layout options, including wide and boxed layout variations, a variety of customizable header styles, hover effects, and much more. 
Just like most of the best 2021 Pantone color WordPress themes the Sound includes a drag and drop page builder compatibility. You can change the theme appearance without touching code and play with the theme settings without much experience needed. 
The Sound theme has lots of premade content, including the ready-to-use WooCommerce store. Also, there are a premade gallery, services, team, and a blog with wide management options. The theme will make your content look attractively no matter what devices your readers/clients use due to its complete responsiveness and Retina image support. 
PJ | Life & Business Coaching WordPress Theme
PJ is one of the best selling 2021 Pantone color WordPress themes. It is designed for business websites, however features lots of advantageous features for bloggers as well. The blog layout is fully customizable. It includes stunning post animations. 
You can use this theme to craft new designs as the PJ life comes packed with a drag and drop page builder and shortcodes that allow you to customize every corner of its ready-made layouts. By the way, there are lots of premade pages that come with this theme, including team, coaches, services, products, pricing tables, and much more.
Compatibility with Slider Revolution allows you to create beautiful sliders and highlight posts spectacularly. With the PJ theme, you can bundle your website with all popular social media and get quality traffic easily. 
AppGeeks | A Web Studio & Creative Agency WordPress Theme
This is one of the most creative 2021 Pantone color WordPress themes with 3 stylish ready-made homepage options for fast and simple website launching. It has a flexible color scheme so you can make it suit your project perfectly. You can use the AppGeeks theme for a variety of projects as it comes bundled with a drag and drop page builder. It includes premade services, portfolio, team, and contacts.
AppGeeks theme is optimized for a spectacular performance on all devices as it has a fully responsive design and features Retina image support. Parallax background effects will improve the scroll of your website and make it look more professional and appealing. 
The theme structure and its code were both made by the best SEO approaches, meaning you can make your website much more popular in 2021 by simply using this theme. 
Maxify | Startup & Business News WordPress Blog Theme
Maxify theme is designed to boost a business's online performance. This is one of the best-rated 2021 Pantone color WordPress themes made with Elementor. With that drag and drop builder, you get plenty of room for creativity as you can manage the theme design intuitively, without touching a line of code. 
Buying the Maxify theme you get 10 ready-made layouts for a startup or any other business website that you can modify the way you want and create unlimited new designs for your project. 
The theme includes Fontello icons, lots of widgets, shortcodes, Elements for Elementor, a manageable color scheme, over 800 Google Font options, and much more. 
All the premade layouts of the Maxify theme have a beautiful structure, so you can organize your content wisely and highlight the most important bits to boost sales/conversion.
Sounder | Online Internet Radio Station WordPress Theme
Let us finish this collection with one of the most colorful 2021 Pantone color WordPress themes. It features the most beneficial options for a radio station of any complexity, including online radio stream, schedule time table, shows management, and more. 
It is optimized for work in all modern search engines and has a quality code that will help you to drag more traffic. 
The theme features a bright and professional design that you can get using the One-Click Installation option. It is meant to import all the theme data automatically. Sharp premium WordPress design and functionality will improve your website's efficiency in the new year.