It is hard to imagine a more user-friendly tool for the website design creation than a good old PSD template. There are lots of PSD templates on the market, however, only some premium PSD templates are truly noteworthy. There are lots of standard PSD templates with outdated design and poor toolkit. 
Today, we will share with you over 10 premium PSD templates for any type of non-profit, personal, corporate website. These templates include a pile of useful ready-made content, sliced PSD files, responsive design, SEO-ready structure, clean and valid code, and fully customizable design. All files are carefully organized so you can launch a website without any additional instructions needed. 
Premium PSD templates, with fresh, modern, alluring designs have a positive impact on any e-project and require minimum efforts for its management. Best premium PSD templates will improve the online performance regardless of the type and focus of your project.
Organic Beauty | Beauty Store & Natural Cosmetics PSD Template
We would like to start this collection of PSD templates with one of the newest premium PSD templates you can get on the Envato market. This template is designed for beauty-focused business and can be used for a cosmetic store, skincare specialist portfolio, beauty blog, facialist, beauty salon, organic and cruelty-free cosmetic shop. Organic Beauty template has a fresh, professional, niche design that can improve the capacity of any website. The template will suit a variety of projects and help to build an awesome website in the shortest period of time. 
This template is made to provide the audience with the most pleasant online shopping experience. You will find lots of ready-to-use PSD files for the representation of a remarkable and efficient product. This template has an alluring design that establishes an inviting atmosphere and boosts online sales. The advanced dropdown menu will help your visitors to find the needed product or information with ease. Organic Beauty template includes lots of PSD files that will cover all your business needs. All files are well categorized and organized to simplify your work with the template. You can use this template for the content representation of different devices as Organic Beauty comes with a responsive design. 
Hope | Non-Profit & Charity PSD Template
There are lots of non-profit organizations out there and they all made for different purposes. With this template, you will create a website that works for a non-profit organization advantage. Hope is the template with a vivid eye-catching design that will help you to catch visitors' attention. You can go online and find the most successful and popular charity websites for inspiration so you could implement interesting ideas on your website. Hope is a customizable PSD template that offers a bunch of shortcode elements for non-effort customization. 
What makes this template one of the best premium PSD templates for a non-profit organization if a Donation page which allows using it for charity and fundraising purposes. The template has an adaptive design that makes your website look good on all devices with different screen sizes. Its design is user-oriented and has a well-organized content so the audience could spend their time on the website efficiently. With the Hope template, you will create a touching and trustworthy atmosphere on the website which is great for any non-profit organization.
Consultor | A Business Financial Advisor PSD Template
Consultor is a business-oriented PSD template that is designed to showcase products and services in style. It has a fresh and modern design that works best for corporates and financial companies. Like most premium PSD templates Consultor includes lots of useful content including keywords that are great for SEO. The template has a responsive design that is a guarantee of the higher conversion level since most traffic these days comes from mobile devices. 
Consultor is one of those smart and simple premium PSD templates that require minimum efforts for its customization and management. It has advanced functionality, tons of shortcodes, Fontella Icons, Google Fonts, and a bunch of PSD files. Apart from that, there is a handy dropdown menu included so your visitors can find the needed content in the well-organized menu. Consultor is the best business PSD template that both, business representatives and the audience will love to use. 
Tediss | Play Area & Child Care Center XD Template
Tediss is a bright, eye-catching, vibrant PSD template that will keep your business visible on the WEB. It comes super responsive so you can build an efficient portfolio, products, and services showcase that works to your business advantage. Apart from the trendy modern design, this template offers advanced functionality that will help you to manage your project through the website. We are talking about such features as events management, online booking functionality, premade prices, and more. 
We share with you customizable PSD templates only and this one is not an exception. Apart from that, the Tediss template comes with a collection for shortcodes for the simplest content management. There are outstanding typography options available so you can make your content stand out using beautiful fonts to highlight the essential bits. You get gorgeous subpages and lots of well-organized layers. Launch the most appealing website for a childcare center with the Tediss template. 
ChainPress | Financial Business Blog PSD Template
There are lots of financial and cryptocurrency blogs on the market. If you want to launch one, then you need to create some unique interesting content to make it look useful for the audience. The ChainPress template will help you with that. It is designed for a professional representation of any finances-focused project. This template includes Financial Guides, ICO list, Markets, and other useful financial pages. 
The ChainPress template has a modern responsive design that adapts to all devices. It is made with high-quality HTML5/CSS3 code to affect the SEO of the website to establish some positive impact on your online performance. All the ready-made pages and subpages come beautifully and logically structured. There is no need to pay lots of money for website design as the ChainPress template features all you need for a business and financial blog at a very good price.
Kargo | Logistics & Transportation PSD Template
When providing logistics services make sure you pick a ready-made design that meets your business needs. Kargo template features lots of content that will come in handy for any transportation and logistics company. There are Quick Estimate and Request Quote options ready for use. Also, there are premade designs for products, services, and team representation. To boot, you get a bunch of useful shortcodes that are made specifically for the niche. 
The customizable layout allows you to add custom content without difficulty. You get the Kargo template packed with some gorgeous typography so you can represent products and services stylishly. This lightweight template will work smoothly in all browsers and on all devices. Kargo template allows you using the dropdown menu to organize and represent the content. Kargo template is available in WordPress version so you can pick the options that work best for your business representation.
Online Education | PSD Template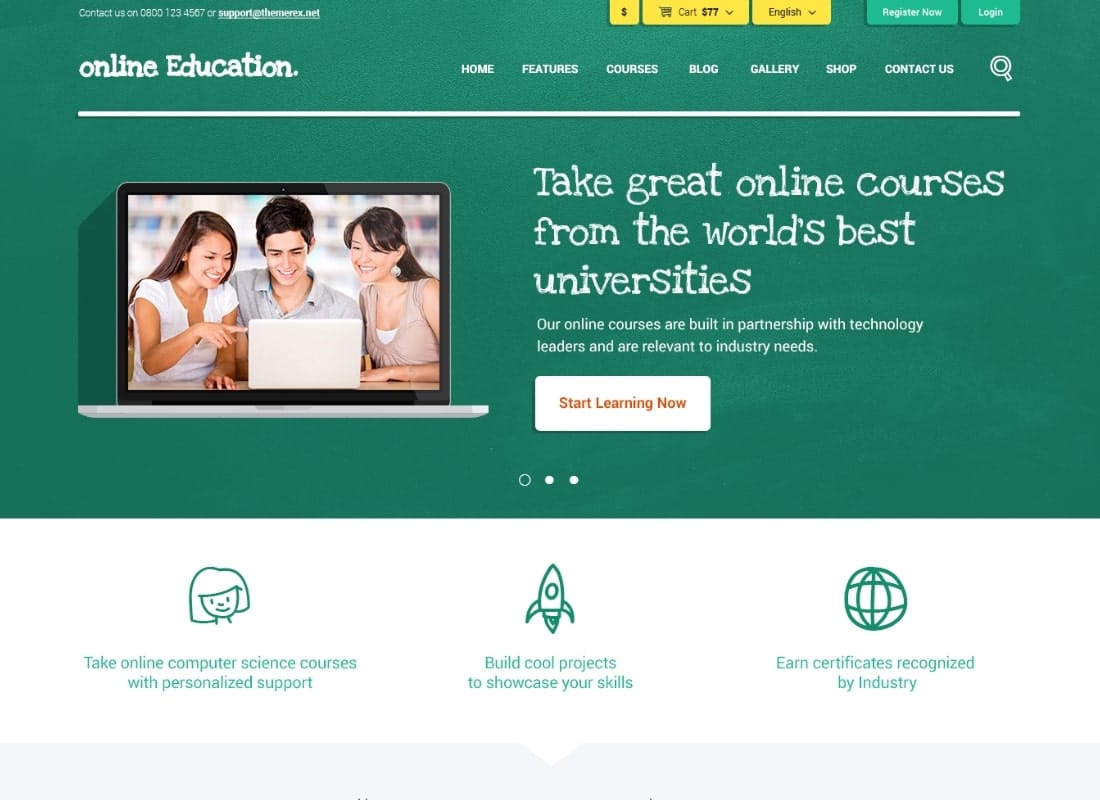 This is one of the most gorgeous, trendy, and functional premium PSD templates for educational services. You can use it for an online education service, school, university, college, children garden, driving school, translation agency, language school, and any other service that shares tutorials and other educational materials. This template includes 2 blog styles. Clean and valid HTML5 and CSS3 code will boost the website SEO and help you to become a popular blogger. There are blog Masonry, classic, a blog with posts and sidebars available. 
Also, the Online Education template can be used for online sales as there is a Shop PSD file included. This template comes with 2 ready-to-use header styles. It is one of the most multiuse premium PSD templates on the whole list. Apart from a huge number of PSD files, you get shortcodes which you can use to customize the template look by yourself.
CarpetServ | Cleaning Company, Housekeeping & Janitorial Services PSD Template
Want to create a modern and functional website for a cleaning services company? The CarpetServ template will help you with that. It comes with user-friendly design and offers infinite customization possibilities. There is no need to be a professional web designer when you craft a website with CarpetServ templates as it includes a bunch of useful premade shortcodes and an intuitive interface. 
This template is great for services and product representation. Thanks to the fully-responsive design you can rest assured in the spotless look of your content on all devices which is crucial for conversion and online sales. Use an advanced dropdown menu and different product styles to showcase your content in the most appealing manner.
DJ Rainflow | Music Band & Musician PSD Template
Refresh the look of a musician website with this colorful template. The dynamic design of the DJ Rainflow template won't leave the audience indifferent and the convenient dropdown menu will help to spend time on the website efficiently. This template offers lots of relevant well-organized content which is fun to manage due to the high customization capacity of this template. 
The best SEO practices and clean code will boost the SEO of your website. Another feature that will be useful in terms of visitors' conversion is the template design responsiveness. There is an events showcase and management functionality included. Also, you can sell your music/music instrument/or music production hardware through the website using the premade Music Shop layout. DJ Rainflow template includes 3 alluring homepage options.  
ShiftCV | Blog, Resume, Portfolio
If you need a professional digital CV but you have no time for making it from scratch then you should buy one of the best premium PSD templates for a CV, blog, and portfolio. This template increases your chances to get a nice job in the shortest time as you can website launching won't take longer than a few hours. This template comes with a super trendy flat design. As you can see from the demo version of ShiftCV, this template was made using the best web design techniques. It is very lightweight which will improve the work speed of the website. 
ShiftCV template features valid HTML5 and CSS3 code. That will help you to push your CV and achieve the best result in all modern search engines. You can use this template as it is since it has a relevant design that will suit any resume website. However, you can show off your creativity and enjoy the flexibility of this template. 
Family Church | Clean Responsive Religion Theme
Family Church is a religious PSD template that will help you to launch a modern website for a non-profit organization. It has a minimalist fresh design that is super easy to manage since the template comes fully customizable. Even though this template is designed for a non-profit organization you can use it for an e-commerce project as well as the Family Church template includes a shop page ready for use. You get 17 layered PSD files that will help you to launch a website in no time. 
This template is the best solution for online church representation as it includes Sermons Sermons Post pages. Another useful feature of this template is the Events Calendar. Using a professionally designed page with a handy calendar you will manage your church events without difficulty. Like most premium PSD templates Family Church comes designed with SEO in mind so you could gain the popularity of your religious website on the WEB.