Are you looking to quickly build a professional website as a presentation of your skills, personal blog, or a powerful online presence for your business? Regardless of the niche, you plan to get started in, Ready-to-Use WordPress Themes will help you do just that, in an extremely short amount of time.
Today, we have collected 15 of the best Ready-to-Use WordPress Themes on the ThemeForest marketplace. Each of them is pretty much a ready-made website in its own right. All it really takes to get started with one is to install it on your hosting, and the whole process takes no longer than a couple of minutes, and a single click of your mouse.
Don't worry if you have no previous experience with developing websites! All these premium WordPress themes are extremely user-friendly and simple to use. Even the most advanced functions will be available to you right from the start, with extensive tutorials included in the package for reference. And if you need some human help, you can always find it at the 24/7 support hotline which you will be receiving access to as well.
Which niche are you building your website in? Did you find a suitable theme for it? Be sure to tell us about it in the comment section! And if you didn't, don't forget to give the ThemeForest marketplace a visit, where you will find hundreds of other themes and other products.
Ozeum | Modern Art Gallery and Creative Online Museum WordPress Theme
Ozeum is a beautiful, colorful template made for exhibition centers, art blogs, online museum stores, public libraries, or publishing houses. Made with Elementor, it is completely flexible and extremely easy to edit within the page builder's intuitive drag & drop interface. Showcase your art in beautiful galleries added by the Essential Grid plugin, and keep your audience updated about all of your upcoming events and exhibitions with the help of the awesome Events Calendar.
Impacto Patronus | Coronavirus Protection, Petitions & Social Activism WordPress Theme
Impacto Patronus will be a splendid solution for crowdfunding, petition, social campaign, activism, and social movement websites. Built-in Give - Donations make organizing your own fundraisers extremely easy, and SpeakOut! Email Petitions functionality will be available to you as soon as you install the theme, which can be done in a single click. Fully responsive, Retina ready, search engine optimized, and integrated with countless premium plugins along with all of the most popular social media platforms, Impacto Patronus will help you build an extremely functional and good-looking website in a very short amount of time.
Helion | Personal Creative Portfolio WordPress Theme + Store
With Helion, you will be able to build an awesome personal portfolio, showing off all of your professional skills and experience. A powerful set of shortcodes, widgets, styles, and pages along with the Elementor drag & drop page builder make the theme very flexible and easy to edit, without ever needing to touch a single line of code. Full integration with the latest version of WooCommerce also enables you to use your site as a platform for selling your goods, while offering tons of store settings and custom modules.
Briny | Scuba Diving School & Water Sports WordPress Theme + RTL
Briny was specifically developed for the needs of scuba diving schools, diving clubs, and other underwater activities. Built-in appointment booking allows your users to place reservations to your office through a straightforward calendar, and a fully-functional WooCommerce store will come in handy for selling your gear and merchandise. Showcase your services and diving locations in beautiful, fully customizable galleries provided by Essential Grid and link up your Instagram Feed to share your awesome social media content with your users.
Craftis - Handcraft & Artisan WordPress Theme for Creatives
Craftis is an awesome minimalistic multi-skin template for craftsmen, artisans, and other creatives who seek to showcase and sell their crafts and handmade goods online. It's fully responsive, Retina ready, search engine optimized, and compatible with a variety of powerful premium plugins, including Elementor, Essential Grid, MailChimp for WP, Contact Form 7, Smash Balloon Instagram Feed, and more. In addition, it features a ton of pre-designed styles, pages, widgets, shortcodes, and modules to help you quickly establish a strong online presence.
FC United | Football, Soccer & Sports WordPressTheme + RTL
FC United is a colorful template for soccer/football clubs, coached, athletes, and individual sportsman websites. It features compatibility with SportsPress and offers a variety of modules for showcasing your league tables, player & team profiles with stats, detailed match reports, and a whole bunch of other statistics. Full integration with WooCommerce also means you'll be able to use your site as a platform for selling your merchandise, gear, tickets to your games, or even your services, should you use the theme as a presentation for your coaching.
Jacqueline | Spa & Massage Salon Beauty WordPress Theme + Elementor
Jacqueline's advanced functionality and beautiful responsive design will be the right solution for modern spa salons, wellness centers, massage services, or other beauty and health-related websites. Showcase your services with handy pre-made pricing tables, events, gift certificates, and let users place reservations to your salon through a useful booking calendar. The theme is also fully compatible with WooCommerce, enabling you to start selling beauty products along with your services right from one of your pages, within minutes upon the theme's installation.
Blabber | All-in-One Elementor Blog & News Magazine WordPress Theme + RTL
Blabber is an extremely powerful all-in-one solution for all types of blogs and online news magazines. With plenty of layouts to choose from and a drag & drop page builder, it is extremely flexible and offers you a large spectrum of theme options for making your vision of the perfect website come to life. Easily set up an email newsletter so that your content gets delivered straight to your readers' inboxes, take advantage of the built-in WooCommerce store, and translate your resource into countless languages to find new audiences all across the globe with the help of WPML.
Hallelujah | Church & Religion WordPress Theme
Hallelujah has been created for churches, prayer groups, Christian communities, volunteering, and non-profit organization websites. Live streaming functionality allows you to easily broadcast your sermons and the powerful Give - Donations plugin makes setting up your own fundraisers a piece of cake. In addition, the Events Calendar provides you with an informative interface for showcasing all of your upcoming gatherings, sermons, and activities, and Elementor ensures the template's complete flexibility.
Mystik | Astrology & Esoteric Horoscope Fortune Telling WordPress Theme
Mystik's beautiful, the two-skin layout will be especially interesting for holistic activities, meditation, fortune telling, tarot, energy healing, and other magic-related resources. Through a fully-functional WooCommerce store you will be able to sell your charms, and built-in appointment booking significantly streamlines the process of reserving a visit to your office. In addition, the theme has been made fully compatible with a huge selection of premium plugins, including Elementor, Essential Grid, Revolution Slider, Contact Form 7, MailChimp for WP, Instagram Feed, ThemeREX Addons, and more.
R.Cole | Life & Business Coaching WordPress Theme
R.Cole is a great business template for quickly establishing a powerful online presence for your business and showcase your services in a way that will encourage more conversions. Being completely multi-purpose and extremely flexible, it can be used for virtually any business niche as it comes pre-packaged with numerous styles, subpages, widgets, shortcodes, modules, and a drag & drop page builder. Fully responsive and Retina ready, it will look and perform equally great on all devices, and a large degree of search engine optimization will help you rank higher in Google faster, exposing your business to more searchers.
Amuli | Property & Real Estate WordPress Theme
Amuli is a stylish contemporary theme best suited for real estate agencies, newly-built apartment complexes, office centers or rent houses. Showcase the properties you have for sale using countless pages, modules, content blogs, pricing tables, widgets, and galleries, and sell your services right from your website through a WooCommerce store. Its fully responsive, Retina-ready layouts can be easily and fully edited within the intuitive drag & drop interface of the powerful Elementor page builder, which is included in the bundle for absolutely free.
Alliance | Intranet & Extranet WordPress Theme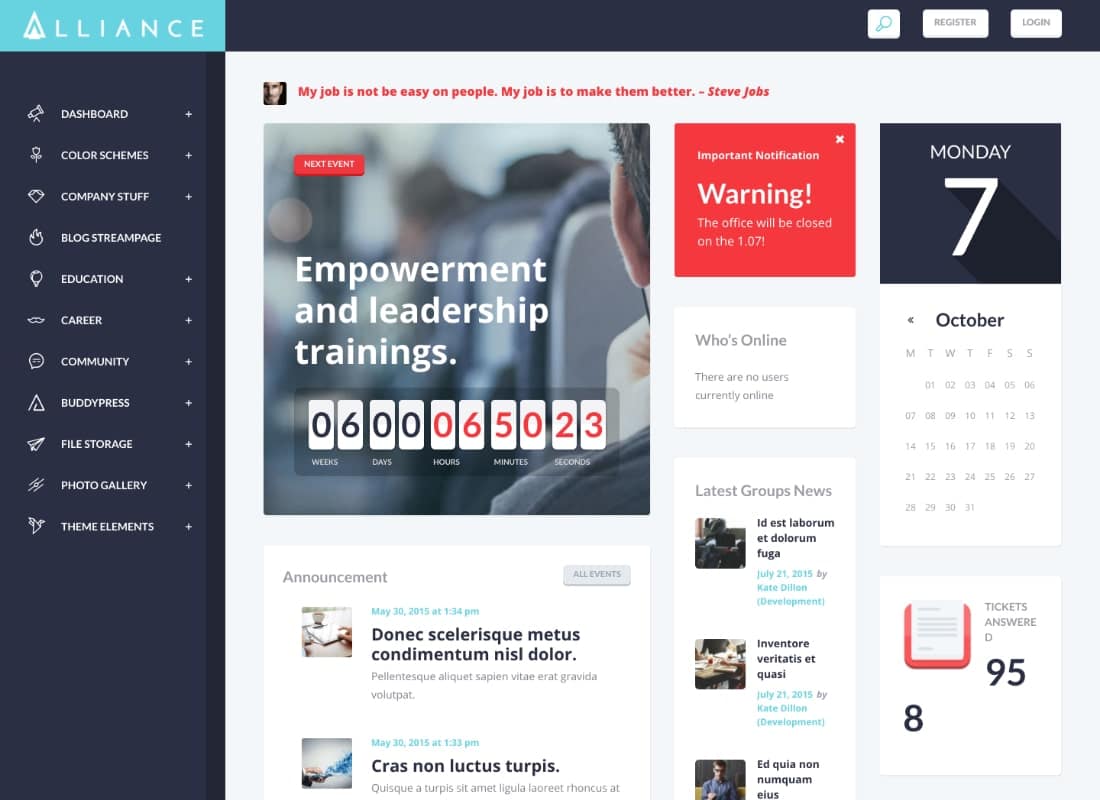 Alliance is a clean, professional intranet/extranet template for those of you who seek to improve the communication within your office. Build a community, utilize informative dashboards, share documents, run courses and polls, and take advantage of the amazing user directory which you can further divide by departments, roles, and so on. Booked Appointments also helps you easily create and manage meetings, and the intuitive calendar will make sure none of your co-workers will miss them.
Hypnotherapy and Psychologist Therapy WordPress Theme
This theme's powerful functionality and beautiful design were crafted for hypnotherapy, psychologist, personal coaching, and any other health-related resources. Built-in appointment booking and management is perfect for allowing users to place reservations to your clinic right from your website, and advanced contact forms are great for giving them a way of reaching you directly and asking whatever questions they have. Showcase your services with awesome pre-made elements and modules, and easily set up a WooCommerce store of your own to start selling your medicine and services right from your site.
Reprizo - Jewelry & Watch Shop WordPress Theme
Reprizo is a beautiful, high-quality WooCommerce theme perfectly suited for online jewelry shops, repair services, jewelry blogs, and similar kinds of resources. It comes with 5 unique homepages, the Elementor drag & drop page builder, tons of custom shortcodes & widgets, a variety of pre-made shop styles, beautiful galleries, and even a cryptocurrency payment option. Fully responsive, Retina ready, and highly search engine optimized, the theme also features a full bundle of premium plugins that includes the mobile-friendly Revolution Slider, MailChimp for WP, Contact Form 7, ThemeREX Addons, WPML, and more.