Launching an engaging, sleek, and professional website is a must for every entrepreneur that desires to grow his business. There are good reasons to use WordPress CMS for the website launching:
WordPress is the most popular content management system that features thousands of ready-made products for all niches representatives;
premium WordPress themes are flexible as you can always extend its functionality using various free and premium WordPress plugins;
modern WordPress themes include a drag and drop page builder as a default content composer, meaning even a complete WordPress newbie can launch a professionally looking website without touching code;
WordPress themes come ready for SEO. Lots of premium WordPress themes for starters come integrated with SEO plugins and feature quality code that help the website SEO anyway;
most reputable providers of premium WordPress themes offer assistance from a knowledgeable support team to make sure you are satisfied with the product.
If you have a cool business idea but you don't know where to start we suggest you begin by buying one of the easiest WordPress themes for starters.
Artrium | Creative Agency & Web Studio WordPress Theme
This is one of the most popular and well-rated easiest WordPress themes for starters. It includes beautiful and creative premade pages and homepage designs. You can install it within minutes using the fast and simple installation option. 
The Artrium theme comes compatible with the Elementor Page Builder meaning you can create unlimited unique designs for your blog, e-store, or a startup website. Apart from that, it features support for such plugins as the ThemeREX Addons and Slider Revolution, that allow you to modify any area of the theme and infuse it with custom content. The best thing about the Artrium theme is that you don't need to touch code at all as the theme management mechanism is based on a drag and drop technology. 
This theme is made to establish the best first impression and leave your visitors happy with the interface. The Artrium theme comes with WPML support so you could reach out to the foreign audience as well. To boot, it comes fully responsive and Retina-ready, meaning your visitors can use any device to explore content in the best quality.
Rhodos | A Colossal Multipurpose WordPress Theme for Business & Portfolio
Rhodos is another great specimen of the easiest WordPress themes to try. Why? Well, first, it is a multipurpose WP template that is perfect for business & corporate websites. Second, the Elementor page builder on its board doesn't limit you. That means that you get the freedom to customize Rhodos as per your liking. And the coding issue won't be a challenge for you. A startup company, investment consulting, or law firm, the variety of web projects has no end in sight. Want to showcase your brand's message in a more appealing way? Take advantage of the video homepage added to Rhodos. To save time, start with pre-designed homepage layouts and grow from there. Besides, Rhodos is a WooCommerce option that lets you make profits online. Optimized for mobile devices and SEO rules, Rhodos should be high on your list.
Revirta | Virtual Assistant WordPress Theme
Take a look at Revirta. Packed with incredible features included, it lets you easily create a stunning website. It's built with the WPBakery page builder, so forget about tricky coding issues. To begin with, use one of 6 unique pre-designed homepage layouts. Take advantage of custom shortcodes & pages to save time & effort. Just because Revirta supports the ThemeREX Addons plugin, take your website up a notch. Want to add new widgets or CV Card functionality? A piece of cake. Sure, minimalist and responsive, Revirta will work perfectly for any kind of business website. Have you've ever wanted to give the Gutenberg editor a try? The time is now. The good news is that Revirta is compatible with Gutenberg. One more thing to mention is the GDPR compliance. Can't wait to jump into Revirta? Go ahead and click the Details button.
Vagabonds | Personal Travel & Lifestyle Blog WordPress Theme
Do you know the best places to visit around the world and the heart and history behind each one? Start a travel blog with Vagabonds and share your stories worldwide. Clean and fresh, Vagabonds is another specimen of the easiest WordPress themes to begin with. It works for lifestyle news, professional magazines, and entertainment blogs. Vagabonds come with the WPBakery page builder on its board, which is great. As such, build new page layouts like a pro, even with a skill gap. Also, Vagabonds includes the Give - Donation plugin that lets you raise funds online. Yet, you can always launch your own e-store and make profits online. All in all, WooCommerce integration is a part of the package. Place the most appealing videos in the background to get as many new eyeballs as possible. Help people explore the world with you.
Vixus | Startup & Mobile App WordPress Landing Page Theme
Choosing a minimalistic design for your company's website? Focus on Vixus. Designed in a clean and minimalist way, Vixus is perfect for that task. Initially, you can use Vixus to design contemporary web and cellphone apps. Yet, there's nothing to stop you from building a landing page for smartphone apps (on both AppStore and Google Play). Afraid of coding issues? Forget about it and use Elementor to the most. When it comes to customization, the powerful and easy-to-use admin panel to the rescue. Odds are, you want to make your galleries shine. Then take advantage of the Essential Grid plugin. Sure, Vixus is optimized to work on mobile devices that exist today and down the road. Getting to the top of the popularity list is much easier with SEO optimized code. Finally, GDPR compliance ensures your website is up to date no matter what.
Gutentype | 100% Gutenberg WordPress Theme for Modern Blog
What makes Gutentype a perfect fit? Well, first clean and minimalist design that looks awesome no matter what. Moreover, every element in Gutentype's layouts has a purpose. Fret not to invest in the easiest WordPress themes jam-packed in this list. You might just be starting out and Gutentype could be the theme of your choice. Better yet, Gutentype is a 100% SEO optimized option. The number of 1.5K of satisfied customers is also a huge benefit. It serves great guest post blogs, business, cryptocurrency, or world news. Besides, it comes with a new homepage added - public health. To get your creative juices flowing, a set o Gutenberg blocks is here to help. To add, Gutentype is compatible with the Instagram Feed and MailChimp for WP plugins. Ever wondered how to make profits on your website? Manage your sales, customers, and inventory for your online store within minutes.
Welsh Corgi | Dog Breeding and Sale WordPress Theme
Color has the power to add a visual focus to the content. Clean and minimalist, Welsh Corgi offers you a better way to create your website. As the name suggests, Welsh Corgi is great for an animal center, dog training courses, kennels firm, or veterinary clinics. So, if you're a part of the animal care niche, Welsh Corgi is the solution. Personalize it as per your taste without touching a single line of code. Make the best use of the WPBakery page builder to create new page layouts. Clean and nice, Welsh Corgi makes our list of the easiest WordPress themes today. Take care of your best-selling products or services. Place it on your homepage sliders to get as many eyeballs as possible. Forget not about your header & footer areas. They can make a difference in your online presence.
Deviox | A Trendy Multi-Purpose Business WordPress Theme
Your website is one of the most effective tools you have to market your brand online. Regardless of what your business might be. Deviox is easy to install and configure right off the bat. First, it's a multipurpose option that is easy to personalize. It takes its place amongst the easiest WordPress theme, for reasons. Second, it's a perfect choice for a corporate business website or a business blog. No worries, if you'll want to use it for a photography or app development purposes. Deviox is a versatile option that lets you do wonders for its page layouts. Next, Deviox is compatible with premium plugins that could level up your website up a notch. Not to mention a set of custom shortcodes & widgets that would save you a ton of time. Step out of the crowd with a user-friendly and effective website that drives leads.
ProStart | Startup & Corporate WordPress Theme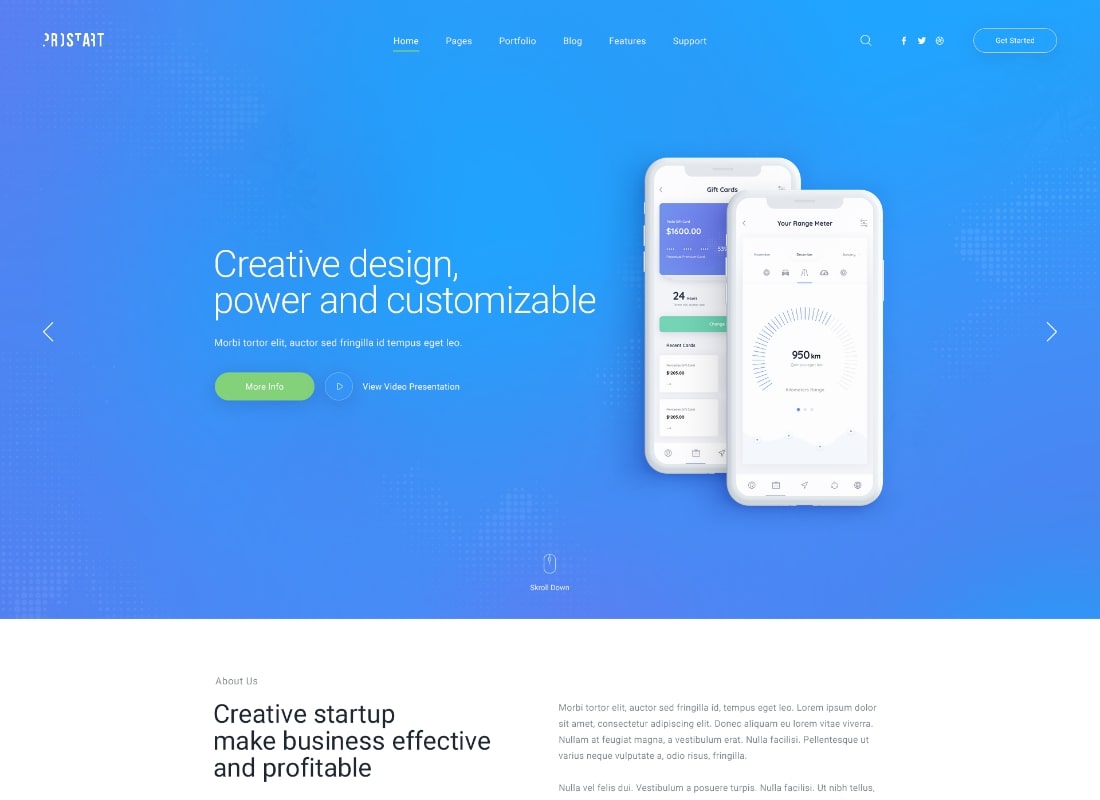 Hunting for the easiest WordPress themes to begin with? ProStart is a perfect fit. Kickstart your business today. Clean & fresh, it ensures your website will look awesome on all modern mobile devices that exist today. Take your road down the new business journey with ProStart. It's built with the WPBakery page builder, so no more tricky issues will make your head spinning. Customize your page layouts like a pro to design greatness that entices your visitors to take action. Also, ProStart is responsive and optimized for the best SEO rules, and that's great. As such, it's easier to keep your website as close to the top of the popularity list as possible. Forget not about your content. The more handy and structured it is, the higher the chance to be discoverable by users. Ready to dive in?
Rosalinda | Health Coach & Vegetarian Lifestyle Blog WordPress Theme
The white space makes Rosalinda look peaceful and inviting. It's a perfect choice for a food blog or nutrition magazine. Intuitive and easy to use, Rosalinda is perfect for selling organic products. Give this specimen of easiest WordPress themes a shot. So what will you get? First, clean and responsive layout that responds to all screen sizes & devices. Second, the powerful drag-n-drop page builder that saves you a ton of time. Also, it offers you an easy and convenient way to develop a site in a heartbeat. And the best thing is that you'll skip tricky issues. Next, the Booked Appointments plugin lets you manage your appointments online. Whereas, Instagram Feed would be a huge help in enlarging your customer base. In turn, the ThemeREX framework gives you the freedom to get creative with your website. Want to get inspired? Click the Details button.