For every entrepreneur that desires to target more people with products or services we provide a start and simple solution, namely a collection of the best WordPress WooCommerce themes for selling products online. There are lots of retailers that already sell products online so the niche is quite competitive. However, buying one of the best WordPress themes for selling online you can achieve a unique website look using premium plugins compatibility.
Any of these themes is appropriate for income-generating purposes due to the compatibility with WooCommerce. This plugin helps to create a website with a product comparison system, wishlist, different pricing options, payment methods, shopping carts, testimonials, etc. The themes that you can find in this list are made following the best e-commerce tricks and techniques that help to gently encourage people to buy a product.>
Integrate your website with commercials smoothly, use sliders to highlight bestsellers, and let your visitors enjoy a spotless website look on all devices using one of the best WordPress themes for selling online in 2020.
Avventure | Personal Travel & Lifestyle Blog WordPress Theme
Avventure is among one of the best WordPress themes for selling online when it comes to a travel niche. It has a flexible layout that any user can manage.

The Avventure theme is a perfect option for an online blog as well as for an e-commerce project since it comes paged with advanced functionality for both cases. A blogger can take advantage of a customizable blog feed and social media integration. Whereas an online entrepreneur gets an e-commerce capacity provided by the WooCommerce plugin. The theme options panel allows controlling the appearance and functionality of this theme in an intuitive manner. 
Muji | Beauty Shop & Spa Salon WordPress Theme
Muji is a trendy and attractive WordPress theme designed for a beauty establishment. Like most of the best WordPress themes for selling online the Muji features WooCommerce plugin compatibility that makes it possible to receive payments for products and services through the website.
Apart from WooCommerce, the Muji theme offers a variety of other premium plugins that help to manage the theme properly without a need to touch code. You can create sliders, build grid-based galleries, manage blog layout, change header and footer of your website. Flexible layout and comprehensive functionality make this theme a beneficial purchase for any beauty website. 
Rhodos | A Colossal Multipurpose WordPress Theme for Business & Portfolio
If you are looking for a flexible WordPress theme that can be modified to fit any project then you need the Rhodos theme. This theme offers a collection of premium designs that will suit a variety of projects. The Rhodos theme comes packed with 10 stylish skins with adaptive design and a modern look. With this theme, you can easily customize the website using a drag and drop page builder that you get with it. Also, there are tons of shortcodes that make the process much faster providing you with ready-made content blocks.

This theme has a powerful e-commerce capacity due to the compatibility with the WooCommerce plugin. It is optimized for SEO as well so you can boost the conversion level simply using this ready-made WordPress theme. 
Raider Spirit | Airsoft Club & Paintball WordPress Theme
Raider Spirit is an awesomely vibrant WordPress theme that combines eye-catching design and premium functionality. The theme features options for online business management, such as an online schedule with events calendar, contact forms, online booking system, and much more. 
The best thing about the Raider Spirit theme is that you can manage it intuitively using shortcodes, widgets, and the WPBakery Page Builder that is known as one of the most user-friendly content composers for fast and effective content management. 
HomeRoofer | Roofing Company Services & Construction WordPress Theme
Check out a fresh and professional industrial WordPress theme. It is made for e-commerce projects to boost the efficiency of any industrial company on the WEB. The theme features WooCommerce compatibility, meaning you get a ready-made e-store layout with an advanced shopping cart, product pages, menu, and other useful content bits. 

Also, you get 2 attractive homepage designs that you can use for a company representation. There are lots of inner pages as well, beautiful galleries, flexible blog feed, contact forms, etc. The theme is compatible with WPBakery Page Builder, Slider Revolution, Essential Grid, ThemeREX Addons, and other premium plugins. 
Niobe | A Gym Trainer & Nutrition Coach WordPress Theme
Niobe is a bright and crisp WordPress theme that you can use to sell sports equipment or fitness programs online. WooCommerce plugin equips you with a huge range of functions created to showcase products and services online professionally and effectively. 
Niobe helps to spread your authority beyond your country by providing you with an opportunity to translate the content in a variety of languages. Also, you get this theme integrated with the most popular social media. The Niobe theme features social media widgets, that help you to integrate the content with like and share buttons to promote content more actively. 
WellSpring | Water Filters & Drinking Water Delivery WordPress Theme
WellSpring is a clean and mobile-ready WordPress theme that is designed for water delivery services. This theme is powered by WooCommerce meaning you get a ready-made e-store with all the necessary functions for online sales. Apart from that the WellSpring theme features flexible layouts and lots of different options to represent the content that you can manage using a drag and drop page builder. 

All skins that come with this theme have an SEO-friendly structure and aimed to improve visitors' conversion levels. This theme is made with the code that is optimized for SEO as well so you could hit the online market with your service and get the highest Google ranking. 
Marcell | 20+ Layouts Multi-Concept Personal Blog & Magazine WordPress Theme
If you feel like you need more flexibility for your website design then buy the Marcell. This theme offers over 20 beautiful and stylish layouts that will suit dozens of different projects. Even though this theme features lots of materials you can install it without much effort using the One-Click Installation option. The theme supports WPML plugin which provides you with advanced translation functionality. Marcell theme comes made using the quality code that helps to push content and gain popularity online. 
FC United | Football, Soccer WordPress Sports Theme
FC United is one of the most functional WordPress themes for selling online sports goods. The theme design is made using a powerful drag and drop page builder that makes it possible to craft gorgeous from scratch. There are lots of premade elements that come with this theme and work great combined with a drag and drop page builder. Moreover, this theme has a fully responsive and Retina-friendly design that allows you to perform effectively on all devices. 

The FC United theme includes a bunch of useful sports features, including league tables, the match report option, team and player profiles, and a ready-made store layout. The theme is compatible with SportsPress and WooCommerce plugins. 
Ozisti | A Multi-Concept WooCommerce WordPress Theme Augmented Reality Store Ready
Ozisti is among the modest and powerful WordPress themes for selling online. Apart from a variety of skin options there is an augmented reality technology integration so you can not only use galleries for products showcase but also represent items using a 3D effect. This theme is made to provide clients with the smoothest online experience for that purpose, you get it packed with premium e-commerce options that can simplify product search and boost the conversion. Ozisti theme features a products comparison option, ready-made wishlistAjax search, menu with categories, the handiest online currency switcher, and more. 
Hobo | Digital Nomad Travel Lifestyle Blog WordPress Theme
Hobo is a stylish contemporary WordPress theme designed for bloggers to keep a website design up-to-date. It features the most intuitive design that any blogger can customize without touching a single line of code. This theme features compatibility with the Elementor Page Builder that comes packed with dozens of premade Elements for the fast and effortless content management.

This theme is appropriate for online sales as well as it has an attractive cleverly designed layout that will catch visitors' attention at first sight. The full WooCommece integration gives you complete control over the online sales aspect, providing you with the opportunity to manage prices, currencies, and product details. 
Photolia | Photo Company & Photo Supply Store WordPress Theme
If you want to create a photo supply website online without much investment needed then buy the Photolia theme. This one will help you to set up an online shop within minutes.  It is powered by WooCommerce which means you get it ready for online sales. Your clients will enjoy using wishlists, zoom, quick view, pick different currency options, etc. The Photolia theme is optimized for speed to provide the best services online faster than your competitors.
MaxiNet | Broadband & Telecom WordPress Theme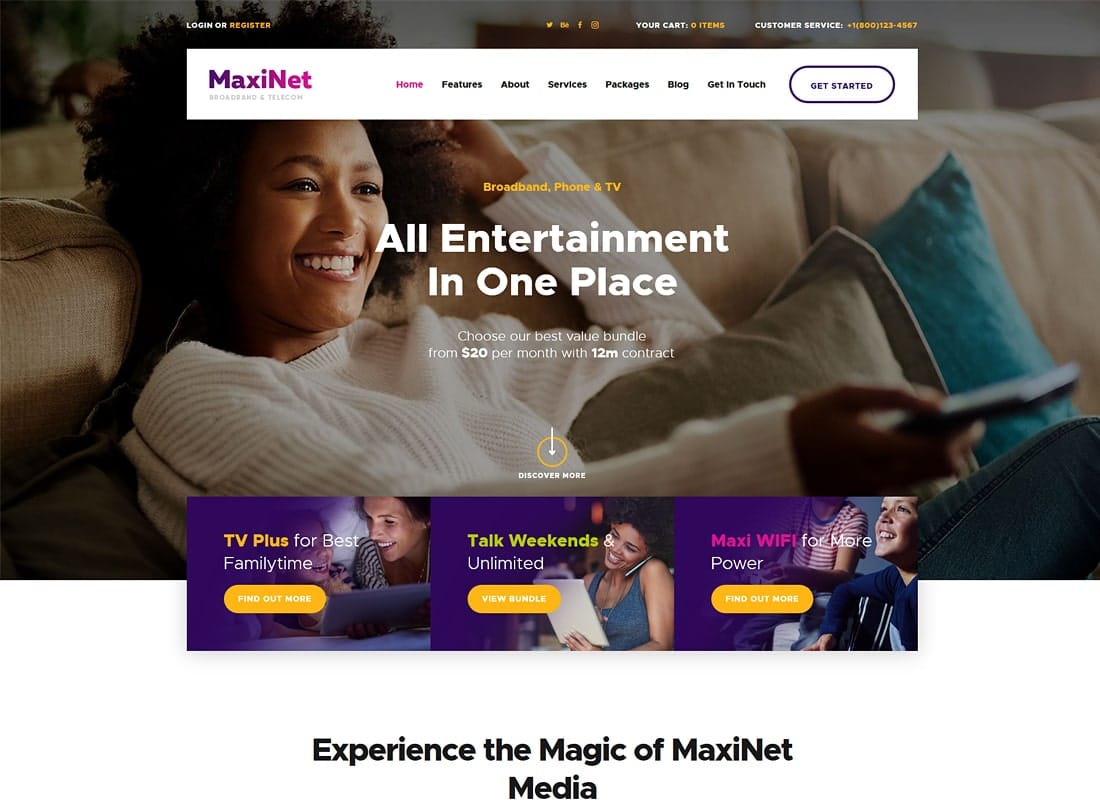 MaxiNet is a fantastic option for telecom service. It comes with a bright responsive design that makes your website look impeccable on all devices. It comes made using the WooCommerce plugins which means you get all the needed options to sell online and receive payments for products and services through the website. The MaxiNet theme comes with gorgeous galleries for the content representation. The theme is designed with a quality code that has an SEO-friendly structure for effective online performance. 
CleanSkin | Handmade Organic Soap & Natural Cosmetics Shop WordPress Theme
CleanSkin is one of the most stylish WordPress themes for selling online. It can be used for a variety of e-commerce projects but is especially good for the beauty industry.

The theme is compatible with powerful drag and drop page builder so you can create new demos for your website using the code-free layout and useful niche shortcodes. The theme comes with a mobile-ready design that adapts perfectly to all screens. This flexible premium WordPress theme will boost sales levels.
HeartStar | Gift Shop & Event WordPress Theme
HeartStar theme is a Woocommerce compatible event WP theme that allows launching a fully-fledged e-commerce website from scratch.

It comes with premade homepages that suit the niche and help to start an effective online performance right away. The HeartStar theme offers lots of premade inner pages, galleries, and blog layout. Moreover, you get ready-to-use testimonials, services, products, teams, and other e-commerce modules. You get access to the theme options panel where you can change the look of the theme playing with color settings and typography options. The HeartStar theme will help you to manage events and business in general. 
Rythmo | Music School WordPress Theme
Rythmo is an alluring WP theme for musicians. It comes with ready-made homepages, galleries flexible blog feed, and a premade WooCommerce store.

As you can see, this is one of the most highly rated WordPress themes for selling online on Envato which is a guarantee of its quality. The theme features premade lessons and classes which means you can not only sell instruments online but also share your knowledge and skill with the audience. The WPBakery Page Builder is included so you can rest assured of the theme's layout flexibility. 
Buzz Stone | Magazine & Viral Blog WordPress Theme
Buzz Stone theme is a trendy and colorful theme for an online blog. It has a responsive design and SEO-friendly design. 
The Buzz Stone theme is powered by the best premium plugins, such as the Essential Grid, Slider Revolution, WPBakery Page Builder, ThemeREX Addons, etc. With a drag and drop page builder you can manage layout intuitively using shortcodes for the theme design customization. You can apply changes live without touching a code. 
Vagabonds | Personal Travel & Lifestyle Blog WordPress Theme
Vagabonds theme comes designed for bloggers, however, can be used for commercial purposes as well. This theme offers an attractive design that adapts to all devices and makes your content look spotlessly. 

The theme has a nice website structure that is easy to manage thanks to the WPBakery Page Builder and ready-made content blocks. Also, you get premade homepage designs and lots of inner pages that cover different topics and allow sharing more business details with a customer. The Vagabonds theme features support for the most powerful income-generating plugins, namely the WooCommerce and Give-Donations. So, you can sell anything through the website made with the Vagabonds theme or use it for a fundraising project.
Lettuce | Organic Food & Eco Products WordPress Theme
Lettuce is one of the most colorful WordPress themes for selling online that has enough power for a blog, e-store, coach website, and online builder. A code-free page builder guarantees high flexibility of the theme design.

The Lettuce theme features lots of shortcodes that help to manage the content much quicker. Also, there are tons of widgets that allow building an interactive website. The theme offers several ways for an eye-catching content representation, for instance galleries and sliders that are included. This theme performs beautifully on all devices and features Parallax effect background for the smoothest navigation. 
EmojiNation | Night Club & Concert WordPress Theme
EmojiNation is among the most vibrant WordPress themes for online sales that feature alluring homepage designs and lots of useful pages for spectacular content representation. 

The theme features compatibility with the most useful plugins that ensure smooth and fast theme management. You get it packed with the WPBakery Page Builder, Essential Grid, Slider Revolution, The Events Calendar, MailChimp for WP, WooCommerce, and ThemeREX Addons plugin. 
Jude | Nail Bar & Beauty Salon WordPress Theme
The Jude theme comes with a lovely elegant design that can be used for any provider of beauty services. It offers you different premade designs to choose from. All skins are versatile enough to suit your particular project and allow you to change the look and functionality of the theme easily. 

With the Jude theme you can showcase your work using a grid-based gallery or setting-up an eye-catching slider to make sure all the website visitors get your message. No coding is needed due to the full support of a drag and drop page builder. Jude is a flexible and beautiful option for creative online performance. 
Carlax | Car Parts Store & Auto Service WordPress Theme
Carlax is a stylish WordPress theme powered by the WooCommerce plugin to boost your online sales.

It is the best for auto service online promotion since it features lots of useful premade pages. The theme has a fully responsive design, it is touch-friendly, supports mobile-ready sliders, and comes cross-browser compatible. There are lots of plugins this theme supports and the Mega Menu compatibility is one of the best features of the Carlax theme. That means, you can organize products and services wisely showcasing it in the logical order for your client's best convenience.  
Le Truffe | Chocolate Boutique WordPress Theme
If you want to sell any delicacy online the Le Truffe is a perfect ready-made option for you. This theme is one of the modest WordPress themes for selling online in 2020 that offers several sharp designs for business representation. 
The theme is made following the best SEO techniques for effective business promotion. The code in its core is also optimized for search engines to ensure the best ranking. The theme is responsive which ensures a pleasurable online experience for all the website visitors. 
Smart Casa | Home Automation & Technologies WordPress Theme
Smart Casa is a WooCommerce-ready WordPress theme that provides you and the audience with the handiest interface for convenient online shopping. The theme has a code-free layout so you can apply changes in a live mode.

There are several ways to manage the content with the Smart Casa theme. You get a drag and drop page builder that requires minimum knowledge of the theme customization process. Also, this theme has a theme options panel, where you can play with a flexible color palette and personalize the theme look
Ludos Paradise | Gaming Blog & Clan WordPress Theme
Ludos Paradise is a versatile gaming WordPress theme. It can be used for different gaming websites, such as blogs, games streaming channels, gaming forums, etc. Thanks to the WooCommerce plugin support, you can use this theme for a commercial project and sell gaming equipment online. 

The Ludos Paradise theme provides you with advanced gaming functionality. There is a ready-made gaming forum, live streams, clans members management option, charts, matches, tournaments, gaming events calendar, and much more. 
Especio | Gutenberg Food Blog WordPress Theme
Especio is a bright and functional theme for a food blog. This one comes cross-browser compatible and ready for a performance on all devices. 

With Especio you can choose different ways of content representation. For example, you can use sliders to integrate a homepage design with essential content. Another advantage of this theme is a Gutenberg compatibility so you can use ready-made Gutenberg blocks to manage the theme design intuitively. 
Kings & Queens | Historical Reenactment WordPress Theme
Kings & Queens theme features a sharp design that can be used for different projects. It ensures a vibrant look of your website and smooth content management. This theme features the One-Click Installation so you can start a business online performance right away.

As you can see, this theme supports lots of options that improve the theme navigation. We are talking about such features as the Parallax Background effect that ensures a smooth website scroll. There are Swiper and Revolution sliders support that makes the Kings & Queens theme design touch-friendly. The theme supports Sticky Menus so your clients could check the website menu without leaving a page.
Vihara | Ashram Buddhist Temple WordPress Theme
If you want your website design to spread calming vibes then go for a Vihara theme. This one is designed for a Buddhist temple and guarantees a beautiful online representation for a variety of sports, health, and mindset-focused projects.

The Vihara theme comes bundled with the WooCommerce plugin, meaning it is perfect for selling online, Moreover, you get it with a strong donations functionality that allows you to use this theme for non-profit websites as well. The compatibility with a drag and drop page builder will help you to achieve the desired website look without difficulty. 
Hogwords | Education Center WordPress Theme
Wrapping up with one of the best WordPress themes for selling online in 2020. The Hogwords is a win-win option when it comes to educational services representation. 
Apart from an alluring and fully responsive design the Hogwords theme offers advanced educational functionality. This theme features custom course layouts, the online events management system, ready-made services/products/courses/about, WooCommerce store layout, gallery, and blog with a flexible layout. With the Hogwords theme you will showcase products and services in the most appealing manner.