The agro sector is more than just vegetation and plantations. For almost every country and continent, agriculture and cultivation are the essential and most significant industry of business and source of living. Focused on producing fresh products, raw materials, and even the smallest necessity, it is indeed one of the basics that all other niches of business depend on. The agricultural industry may seem an area of life that is far from technology and a modern world. But even agriculture is leaning more towards promotional production now more than ever.
Each day lots of farmers produce more and more innovative organic products. Also, the business to improve the sector of agriculture with advanced technologies, innovations, and new equipment is getting more competitive as well. The modern agriculture business is science- and technology-consuming and aims at high productivity, often at the expense of our health.
Are farming and agro-business becoming trendy?
Nowadays, agronomy markets are growing more and more popular, and young people long for working on organic farms. However, for these market sales not to go down, farming business needs to get in the ring. That means it's necessary to create a modern, attractive website for a company of all sizes, using the newest agro website templates. Growing healthy crops and cattle is critical to our future, so we cannot but make it work.
And the best part is that creating a site entirely from scratch is no longer a difficult task. Thanks to third-party developers and designers, there are plenty of agro website templates that you can now choose.
Well, if you are an experienced farmer or a newbie in this area, and you understand very well the need for a fast, flexible, and user-friendly site representing your business, let me help you. I will make you acquainted with agriculture and farming website templates for business.
So, here you will find all the best agro website templates.
Organic Farm Multipurpose HTML template
Organic Farm is a modern HTML template ideal for businesses such as agriculture, vegetables, and organic foods. This eye-catching HTML5 template is beautiful due to its clean, smooth design.
The greatest thing about the Organic Farm Multipurpose HTML template is that the developers created template the Bootstrap framework. It gives the user flexibility and quality performance. The developers built it, especially for organic, agricultural, and food-based companies and websites. The visuals give out a vibrant, colorful, and stylish outlook to leave a lasting impression on anyone who lands on the site. Completely responsive, it automatically adjusts to every device screen size with ease. For easy customization, it uses clean, valid, and well-commented codes to write the elements.
The template comes with a wide variety of pages that will help your company present essential information to highlight the most relevant services and business information. Also, this template contains contact forms in PHP, which will allow you to receive messages directly to your email address; it is easy to configure and customize.
Dairy Farm Website Template
Dairy Farm is an all-around HTML template for dairy farming, agriculture, gardening, or landscaping businesses. With this template, you can now create a website shortly. There are various index and internal page layouts at your disposal, all set and ready to use. You can combine and use what's available and go from there. Of course, if you would like to brand the theme and perform additional customization tweaks, you can do that, too. Hint: drag and drop page building technique.
Some more goodness of Agritek comes in the form of Sider Revolution, Working Contact Form, Newsletter Subscription Forms, Blog, Gallery, and E-Commerce Page Template. The dairy farm template follows the latest trends of the coding standards. For a small investment, you get a ton of material that will last you forever. Dairy Farm also comes with regular updates that will keep your page right at the top at all times.
FIXIT Multipage HTML Template
This template is a first-class tractor multipage HTML template. Its design is a great solution to start your tractor selling or rental business online. Having fully cross-browser compatible, this template will provide you with top website performance in any web browser.
It comes with a neat, clean, and 100% responsive design, so your future tractor website will be convenient to check on mobile devices. Also, this tractor HTML template claims an intuitive website builder in the core. Thus, you can quickly create and customize your website with no need to hire a professional. Its design comes with a simple website admin panel, various editing tools, SEO options, blog functionality, and even more. Build customer loyalty with testimonials and let them get in touch with you directly through the integrated contact form. For your information, you can also show your location with custom Google Maps. Other amenities contain smart search, promotions, different payment gateways, pricing plans, and premium plugins free of charge.
Healthy Food Multipage HTML Template
As the name suggests, Healthy Food Multipage HTML Template is a food website template for everything organic and eco. Right away, choose between the predefined demos and start turning Healthy Food Template into an eye-catching and attractive page. Inside this theme, you will also find several inner page layouts, like the gallery, about, services, shop, and other page layouts. You can start building your pages pretty fast. All you have to do is to import the .zip file and get creative.
Healthy Food Template offers you to select from different header and footer styles, unlimited colors, and an assortment of other features that will do you well. Novi page builder in this template will help you with easy customizing. Without suffering from coding and other advanced tasks, you can now start on the web quickly with the stuffed Orgafe.
And this is just the beginning of the fantastic agro website template. It has lots of other traits and features that will boost the online presence of your eco-business.
Food Multipage HTML Template
Are you tired of worn-out website designs? Do you want to find something freshly prepared and uniquely tailored for you? Then try Food Multipage HTML Template, an organic food HTML template, that guarantees you reliability with its fully responsive layout. This template is perfect for nearly any type of food-related e-commerce website but versatile enough to fit another kind of business as well. It has a clean and well-kept look, yet still maintaining originality and systemizing. It's full of its high functionality, and there are even more to come in the future.
Food Multipage Template comes with many HTML files, all pre-made and ready for you to use and take to your advantage. The web design is contemporary and simple to skim through so the end-user can quickly find the content they are after. Accessible documentation files and customer support are also available to every Food Multipage Template user for smoother website creation.
Farm Responsive Website Template
You'd better stop looking for the best farming website template. Here is Farm Responsive Website Template, a modern, clean, modern, and easy to use tool to create a fully active page. Whether it is farming or agriculture, Farm fits both. Each animal-related topic will look great thanks to this clean design. You will have custom post types and formats that allow you to put different kinds of information.
The farm is based on Bootstrap Framework, which gives it the flexibility and extensibility, that every owner of the website wants. Also, it is SEO-friendly, in tune with web browsers, and optimized for better performance on all devices. It comes with features such as parallax effect, on scroll content load, blog, Google Maps, and a full online store section. You see, Farm is a real deal when it comes to creating the best farming website.
Horse Website Template
If you are a horse fan, love riding on a horse, and want to create your website related to horses, then this Horse Farm Animals HTML Template helps you to grow your business. This Horse Website Template is well-designed and will give you a completely new pleasant experience to your customers. It fits perfectly for those who love riding a horse, wants to learn how and many more activities related to the horses. You will have multiple color variants that will showcase your creative approach. The Horse HTML Website Template is 100% responsive and can access from every device like mobile, laptop, and desktop too.
Use the power of Bootstrap Framework and take to your advantage Horse template's flexibility. It is a reliable tool with which you can build a cracking horse-first website comfortably. Wait no longer, download the template and start editing it per your request.
Horses Responsive HTML Template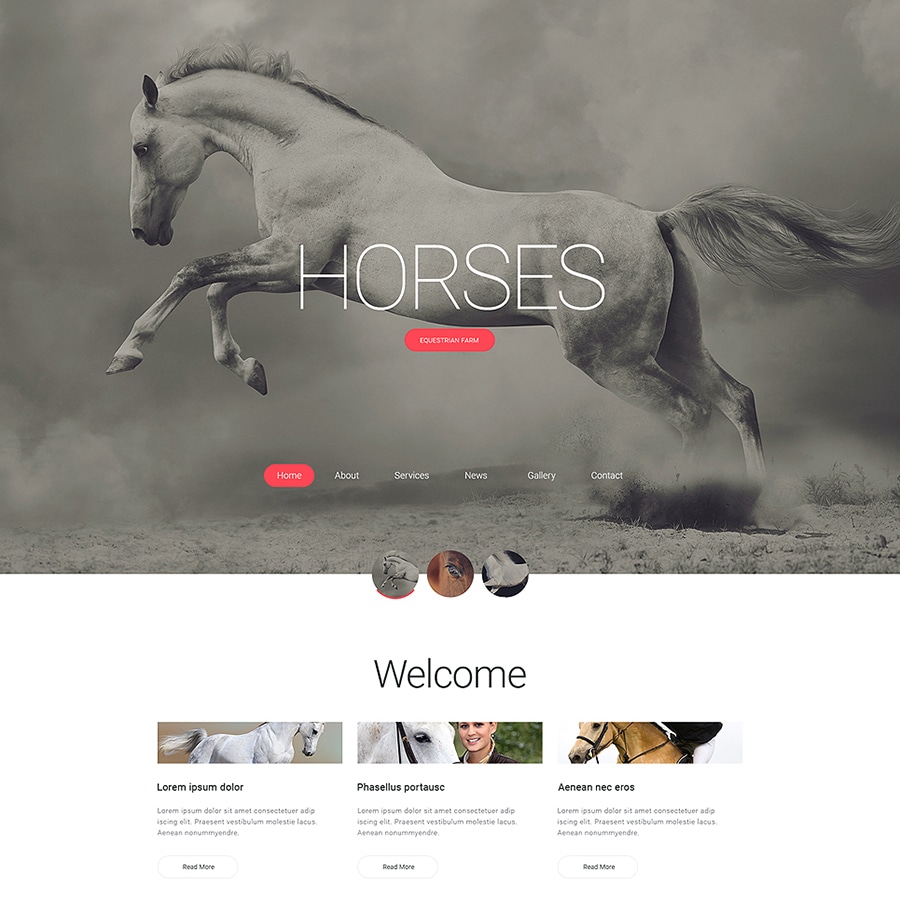 The Horses HTML Template is a responsive template with all important sections of animations and sliders, which are highly helpful to create your web page for horses. The Horses Responsive HTML welcomes you with an exquisite full-width image and animation with a description and features of your horse riding school. There is a neat menu that helps us to navigate to the other pages of the Horses Responsive HTML easily. On the homepage of this Horses Responsive HTML, you can showcase your horse riding school and your services that you offer to customers using the images. Also, display the images of your horses, doctors, and training schedules services with different categories with a nice portfolio design, which helps your customers to know more about the horse and other services you offered. Also, the developers added some key features for those who want to know more about horse riding and taking care of their horse.